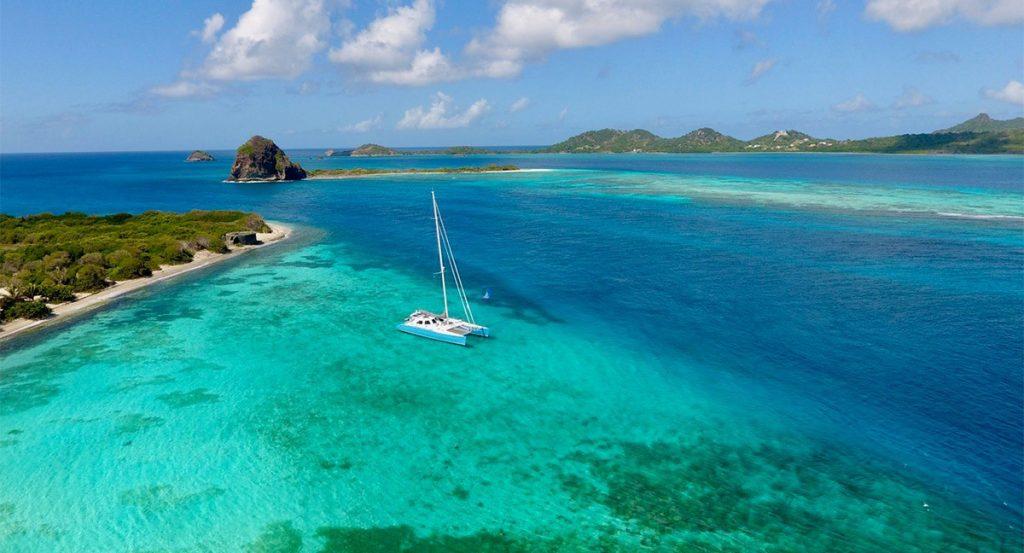 If you've been putting off your vacation plans then now is a good time to start. The 72' charter Catamaran SKYLARK is now booking Caribbean yacht charters. Starting May 1, 2021 SKYLARK will be sailing the Caribbean with a home port of Antigua. Whether you are just thinking of a vacation or if you are ready to book your holiday, now is the time to contact Nicholson Yachts. Since summer is short, available calendar dates do fill up. Even if you aren't ready to commit to a date, at least find out what yacht charter opportunities are open.
About 72' Skylark
Up to 8 guests can enjoy a luxury sailing experience. At 72 feet in length with a 32 foot beam, Skylark offers an amazing amount of space on deck and inside. Skylark has two king berth suites and two queen berth suites. Every guest will enjoy comfort and privacy. Social areas are huge with plenty of room for guests to gather for meals and refreshment.
Charter catamaran SKYLARK has lots of activities. Swimming, of course, plus equipment for fishing and snorkeling. The yacht carries kayaks, paddle boards and even kite boards for the true thrill-seekers. However, many guests revel in the opportunities to simply relax and unwind. Indeed the warm Caribbean sun, amazing azure waters and palm-lined shorelines provide the perfect balance to the workaday life.
Captain and Crew
Meet the Captain and Crew of charter catamaran SKYLARK. Both Captain Alan and First Mate Liz embody the spirit of adventure. Moreover, they delight in sharing the joy of the seafaring life with their guests. First Mate Liz is also a wonderful chef who takes advantage of fresh catches and local flavors. Guests savor the experience of every freshly prepared meal. Liz is also able to handle special diets. Accordingly your charter agent at Nicholson Yachts will be able to set up a dietary plan that fits your lifestyle.
Brief Specs for Charter Catamaran Skylark
Length 72'
Beam: 32′
Built: 2018
Guest cabins: 4
Layout: 2 king berth suites, 2 queen berth suites
Guests: 8
Crew: 2
Separate crew quarters
Cruising area: Caribbean, Antigua
Tender 14ft Tender 40hp
Amenities: Deck Shower, Fishing Gear, Snorkel Gear, Paddle Boards, Kayaks, and Kite Boards. CD library, Cell Phone, DVD Library, DVD Player in Saloon, Indoor Audio System, iPod Dock, Satellite Phone.
Meals: Chef Prepared on Board, Special Diets, on Deck BBQ.
For more details on charter catamaran SKYLARK please call Nicholson Yachts at 401-849-0344.
Cruising grounds
Charter Catamaran Skylark is currently based in Antigua. Together with Barbuda the two islands comprise one nation in the Lesser Antilles. Nearby islands include St. Kitts and Nevis, Montserrat and Guadeloupe. Fun fact: Guadeloupe is where the popular TV mystery show "Death In Paradise" is filmed. While Guadeloupe is a TV star, in fact all of the islands have a lively yet laid-back tropical ambiance.
Video of 72′ charter yacht SKYLARK sailing
This short video of the charter catamaran SKYLARK under sail is from the Nicholson Yachts YouTube channel. Please visit our channel to see more yacht charter videos.
When to book your Caribbean yacht charter
Bookings for charter catamaran SKYLARK are available for itineraries after May 1, 2021. Even if your travel plans look uncertain at the moment, now is a good time to see what yachts are available. If you're looking for a smaller catamaran then check out the 47′ Catana catamaran GENESIS. She is perfect for a couple.
More yacht vacation options
In addition to Caribbean, Nicholson Yachts offers charter vacations worldwide. If you're looking for destinations closer to home then consider the Great Lakes, Florida, New England or Bermuda. Summer 2021 options for the Mediterranean include Turkey, Greece and Croatia. Since this year's travel restrictions and opportunities update frequently you can keep current with the latest updates on yacht charters for summer by subscribing to our weekly newsletter.
Charter yachts to choose from include monohull sailing yachts, motor yachts, even super yachts. The choice is yours. When you're ready to book — or ready to dream about — a private yacht holiday then contact Nicholson Yachts.
More charter fleet news from Nicholson Yachts
Memorial Day Travel Planner for yacht charter vacations 2021
80′ Trumpy yacht charters on BB on Intracoastal Waterway Spring 2021
Catamaran GENESIS offers 10% discount through May 2021.
97′ SOVEREIGN New England yacht charters Summer 2021
90′ Catamaran ORION in the Med for Summer 2021.
75′ MATAU chartering the Caribbean in 2021.
New England yacht charters on 111′ AURELIUS Summer 2021
New England charters on 60′ catamaran CYGNUS CYGNUS

Post updated May 5, 2021
#antigua #caribbean #catamaran #nicholsonyachts #yachtlife