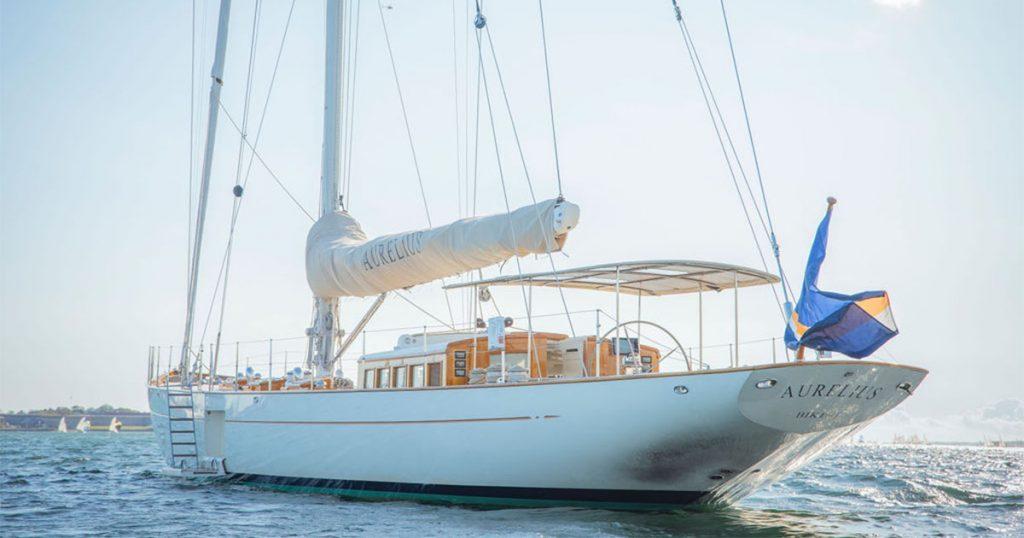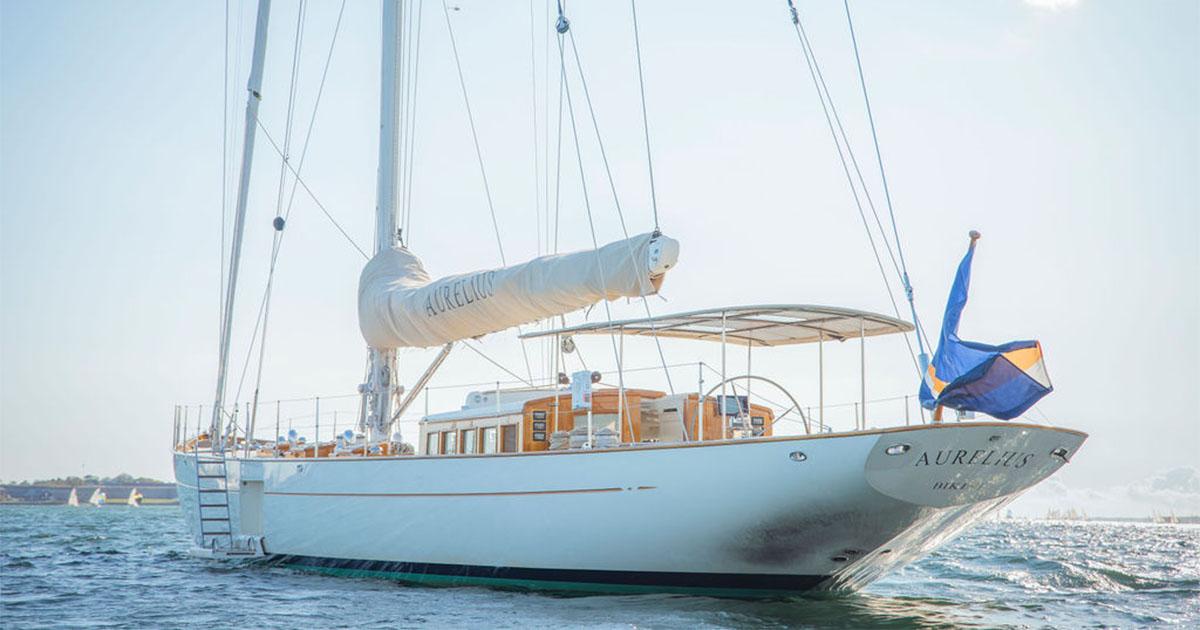 New England sailing yacht charters are now available on the 111-foot AURELIUS for summer 2021. Built in 2011 she offers both classic style and all the luxury yacht charter amenities. Additionally, she balances sailing performance with guest comfort.
Bookings are available for luxury yacht charters in New England and AURELIUS is a favorite choice. Her grand classic design harmonizes with the Newport vibe. The sailing yacht's stylish lines stand out among the other world-class vessels and opulent mansions. Her seaworthiness allows her to explore the dramatic coast while her elegance makes her welcome everywhere.
Inside the sailing yacht AURELIUS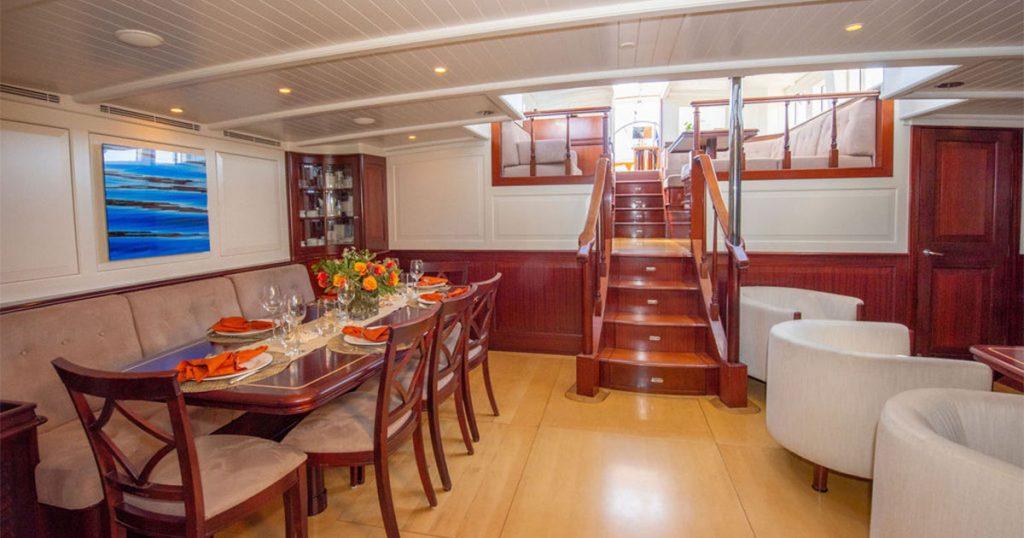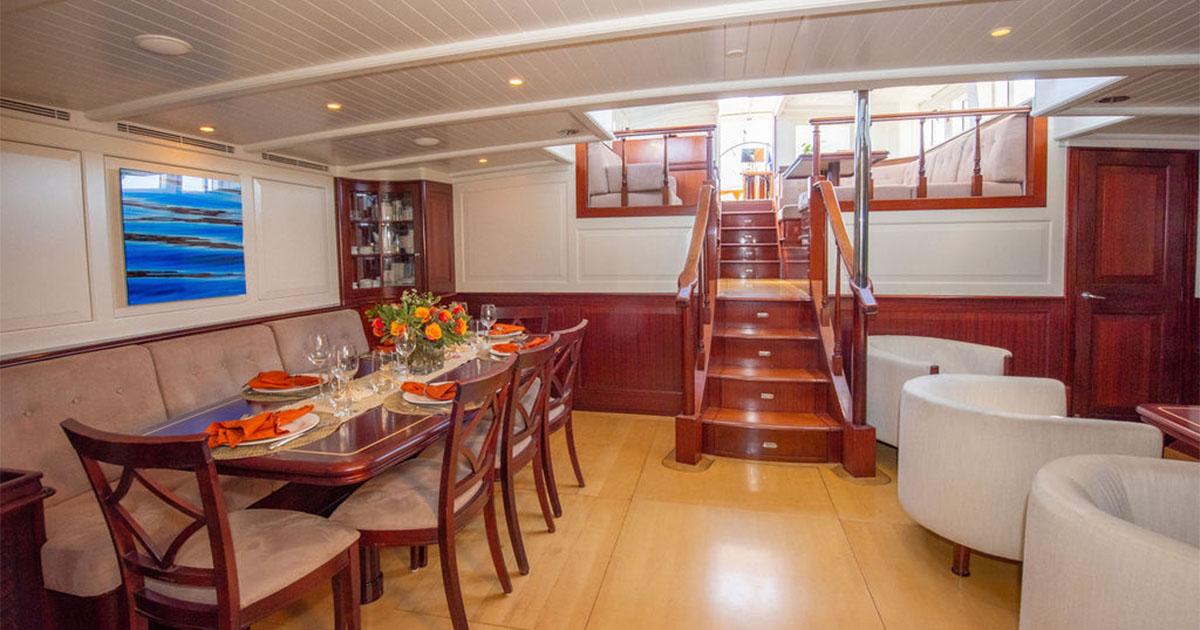 This 111-foot sailing yacht offers first-class accommodations for up to six guests. The open-plan interior allows for an informal vacation lifestyle. Use of Honduran mahogany and a palette of neutral colors invoke a sense of tradition. Yet AURELIUS also includes modern amenities such as a fully air-conditioned interior. She is the perfect blend of refinement and informality, timeless romance and practicality.
The yacht chef prepares delightful meals that make the most of the season. While dining salon seats eight, guests gravitate on deck for an evening glass of wine or morning coffee. Guest dietary needs take priority before the charter begins. The professional chef creates a custom meal plan based on guest requests. Whether you are adhering to a special diet or looking to indulge while on your yacht holiday, the chef prepares a variety of appetizing and satisfying meals.
Depending on itinerary, guests are also welcome to dine at destination restaurants. While meals onboard are five-star, the coastline establishments are tempting. Consult with the yacht charter experts at Nicholson Yachts. The team can design your ideal New England yacht vacation experience.
Accommodations on Charter Yacht AURELIUS
Three guest cabins offer privacy and quiet. Each is air-conditioned and fine linens are gentle to the touch. The master suite features a Queen bed and ensuite bath. Shades adjust for easy sleeping on those long summer nights. The crew has its own separate entrance and crew quarters.
Sailing New England on AURELIUS
Sailors will appreciate the sailing yacht's performance under sail. A true 21st century sailing yacht, AURELIUS features current technologies and equipment. The yacht design is complemented by the skills of the captain and crew. The yacht's captain, Nicolas Chavet, has logged nearly 200,000 miles. As may be expected, Captain Nicolas has an excellent sailboat racing record. However, he is also a licensed airplane pilot, certified flight instructor and a classically trained violinist.
New England Yacht Charters in 2021
2021 is an ideal time for yacht charter in New England. The majestic coast is lined with quaint towns while alluring islands dot the horizon. Yet it is conveniently located near major metropolitan areas like New York and Boston. For Americans, a New England yacht charter offers a true sense of adventure while keeping close to home. New England and Newport also represent must-see destinations and must-sail waters for international travelers.
If your are interested in charter bookings for Summer 2021 then contact Nicholson Yachts today. The charter team welcomes your call at 401-849-0344. We are happy to discuss the options open to you. New England is a the perfect setting for AURELIUS.
Naval Architecture by Dykstra, Built in Holland by J.O.M.
The yacht is classic in style while implementing the latest engineering and technology. As a result AURELIUS is a sailing yacht that sets the standard for performance, safety and comfort. Dykstra Naval Architects of the Netherlands is the designer. Holland's J.O.M (Jacht Ontwikkelings Maatschappij) built AURELIUS in 2011. Both Dykstra and J.O.M. are leaders in yacht building. The 2021 refit refreshes the interior and updates systems.
Brief Specifications for AURELIUS
Length: 111 feet
Beam: 23 feet
Cabins: 3
Guests: 6
Launched: 2011
Refit: 2021
Contact Nicholson Yachts for complete details and charter calendar openings.
Nicholson Yachts will keep you updated on charter news
Sign up for our regular yacht charter news emails. When you sign up then you'll receive latest information directly from the source. Please fill out the form at the bottom of this page. The team Nicholson Yachts looks forward to sharing the world with you. Whether you prefer domestic travel or international destinations, we can help you find the right itinerary. If you're looking farther ahead into 2022 and beyond then we can help there, too. In addition to sailing yachts we offer motor yacht charters as well.
More charter fleet news from Nicholson Yachts
Catamaran GENESIS offers 10% discount through May 2021.
75′ MATAU chartering the Caribbean in 2021.
72′ SKYLARK booking charters beginning May 1, 2021.
50′ PARADIGM SHIFT joins Nicholson Yachts fleet
#nicholsonyachts #yachting #newportri #newengland #newenglandlife #luxuryyacht #yachtcharters #luxuryyachtcharters #yachtlife #yachtdesign #sailing #lukebrownyachts