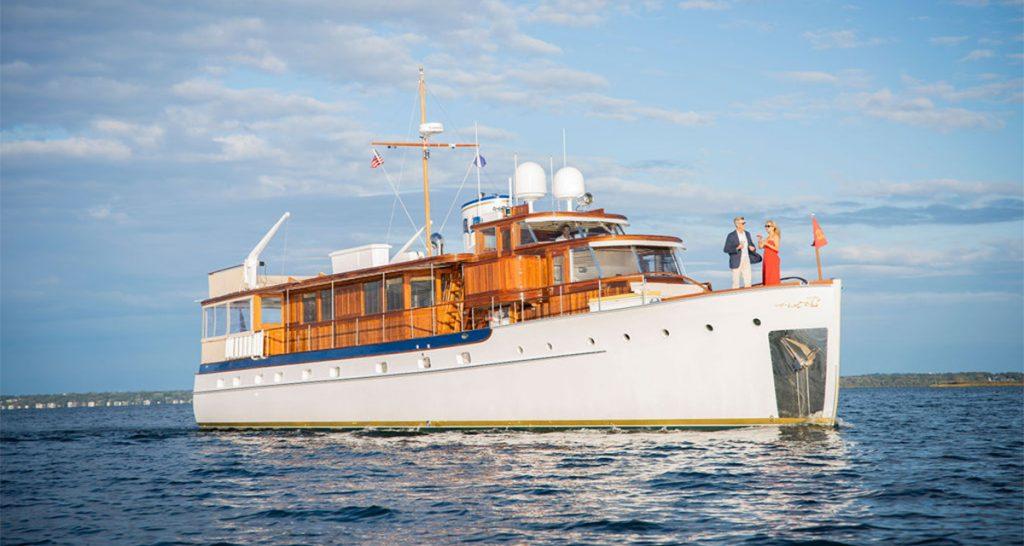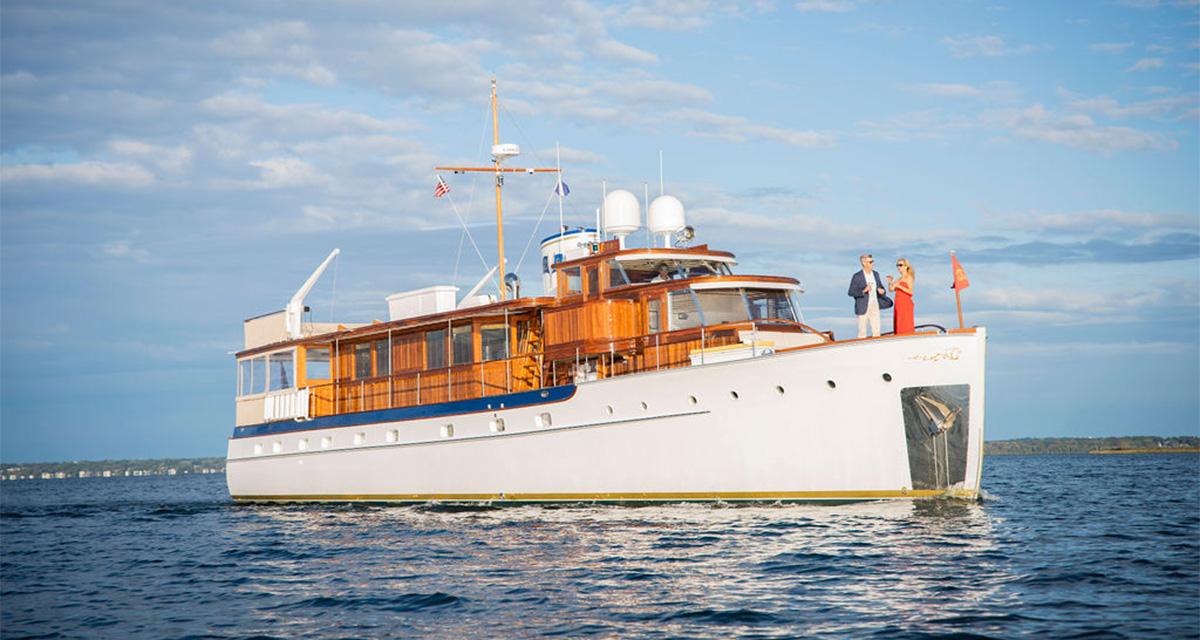 Trumpy yacht charters available this spring on "BB". Cruise the Atlantic Intracoastal Waterway in style. A recent restoration updates this 80' Trumpy motor yacht. Built in 1947, her $4 million restoration, refit and update took 3 years to complete. Every detail shines, sparkles, and gleams. The sumptuous interior is as glamorous as the original. Thoughtful modern upgrades – such as stabilizers, sound system and televisions – are unobtrusive and contribute to guest comfort. Onboard BB you can take a step back in time. Here you will enjoy classic opulence complemented by modern amenities.
A classic yacht experience
When people think of a classic motor yacht probably the Trumpy is what they visualize. These yachts are the icon of American luxury yachting in the 20th Century. About 400 Trumpy yachts were built in the U.S. from the 1920s through the 1970s. USA Today ran a feature article on Trumpy entitled "Dreamboats". "BB" provides an authentic luxury yacht charter experience.
On board BB guests will share the thrill of past Trumpy yacht owners. Howard Hughes, the Guggenheims, the Duponts, the Chrysler family and the Dodge family all owned Trumpys. Arguably the most famous Trumpy of all is the 104' USS Sequoia, the Presidential Yacht of the United States. USS Sequoia served U.S. presidents from 1929–1977. She is now a National Historic Landmark.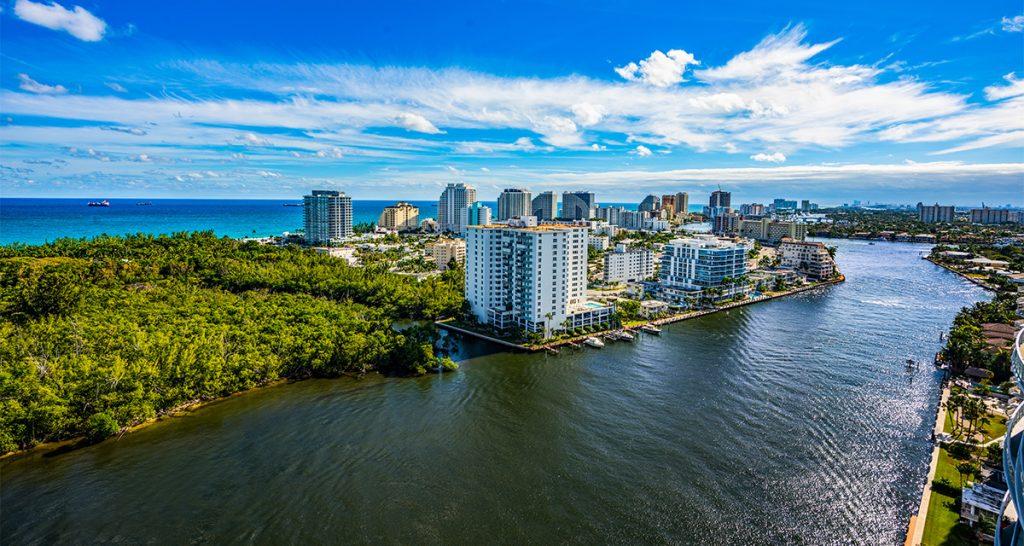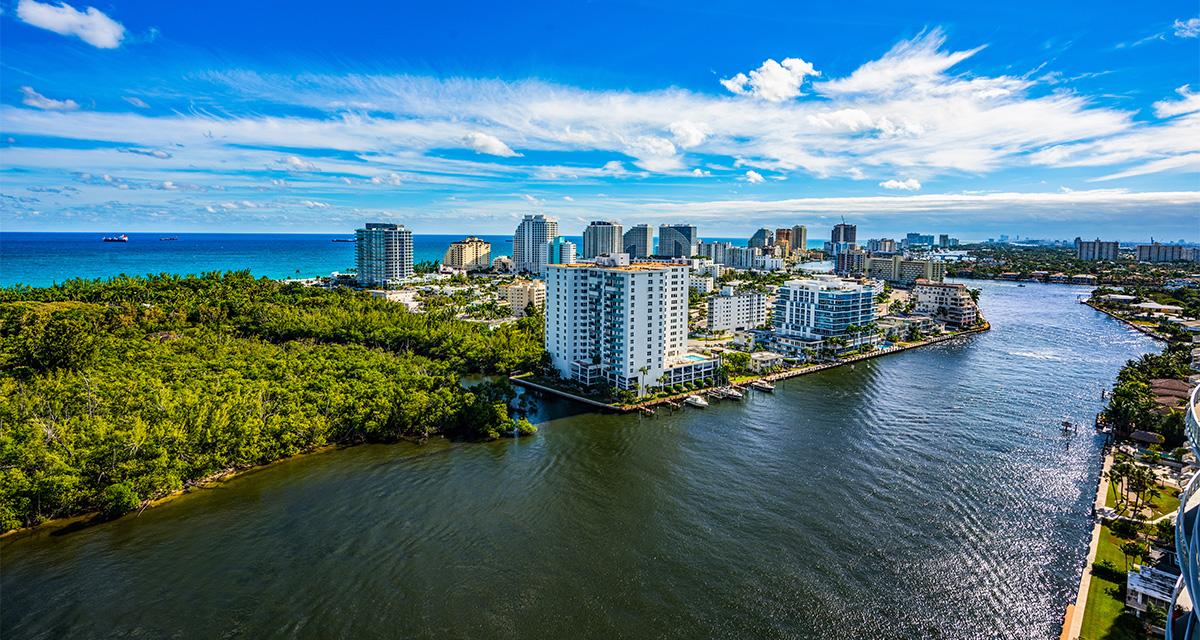 Intracoastal Waterway Cruise itineraries
80' Trumpy BB will be making a leisurely cruise from Florida to New England in Spring 2021. Private yacht charters are available for up to 7 guests. The Atlantic Intracoastal Waterway is over 1,200 miles long. Due to its length, a variety of itineraries are available. Running from Miami, FL to Norfolk, VA there are many options for embarkation. Charters are offered in week-long segments.
BB will cruise through Florida, Georgia, South Carolina, North Carolina, Virginia and Maryland. She will stop along the way where guests may explore. In Florida itineraries include the Gold Coast, the Treasure Coast, Space Coast, and First Coast. Experiences range from big cities to vast natural areas to a rocket launch. The islands of coastal Georgia are legendary. In fact, the Golden Isles were voted the "Best Islands in the Continental U.S." by the most recent Travel + Leisure poll. BB will pass through Cumberland Island, Jekyll Island, St. Simons Island, the city of Savannah and north to Tybee Island. Charleston, South Carolina is a highlight. And in North Carolina Wilmington, Beaufort and Elizabeth City are favorite stops. Norfolk, VA is Mile Marker 0 of the ICW. However BB will continue north to New England. As you can see, your choices are limited only by the imagination.
If you are interested in a Trumpy yacht charter, then contact our charter experts. We can help you plan an itinerary that suits you. Call us a call or drop an email for prompt, personal service. We know the yacht and crew and can answer any questions you may have.
Brief specifications for "BB"
Builder: Trumpy
Launched: 1947
Refit complete: 2020
Length: 80'
Beam: 18'
Guests: 7
Cabins: 3
Crew: 3
More details and photos of 80′ Trumpy BB are available from Nicholson Yachts. Trumpy yacht charter vacations are available now. However, bookings are limited. Contact Nicholson Yachts to cruise the Intracoastal Waterway in style.
More yacht vacation options
Nicholson Yachts offers charter vacations worldwide. U.S. destinations include Great Lakes, Florida, the Atlantic coast, and New England. The Bahamas and Bermuda are close to home. Summer 2021 destinations for the Mediterranean include Turkey, Greece and Croatia. Whether you wish to stay in the US or travel abroad, keep current by subscribing to our weekly newsletter.
Luxury charter yachts include both motor yachts and sail. Sizes range to super yachts over 150′ in length. If you're looking for assistance, we can help. We also have an online tool to search yachts for charter. This allows you to see all the yachts available this season. Now is a great time to start planning.
More charter fleet news
Memorial Day Travel Planner for yacht charter vacations 2021
Catamaran GENESIS offers 10% discount through May 2021
97′ SOVEREIGN New England yacht charters Summer 2021
90′ Catamaran ORION in the Med for Summer 2021
75′ MATAU chartering the Caribbean in 2021
New England charters on 111′ AURELIUS Summer 2021
New England charters on 60′ catamaran CYGNUS CYGNUS
Golden Isles Named Best Islands in the Continental U.S.
Post updated May 10, 2021