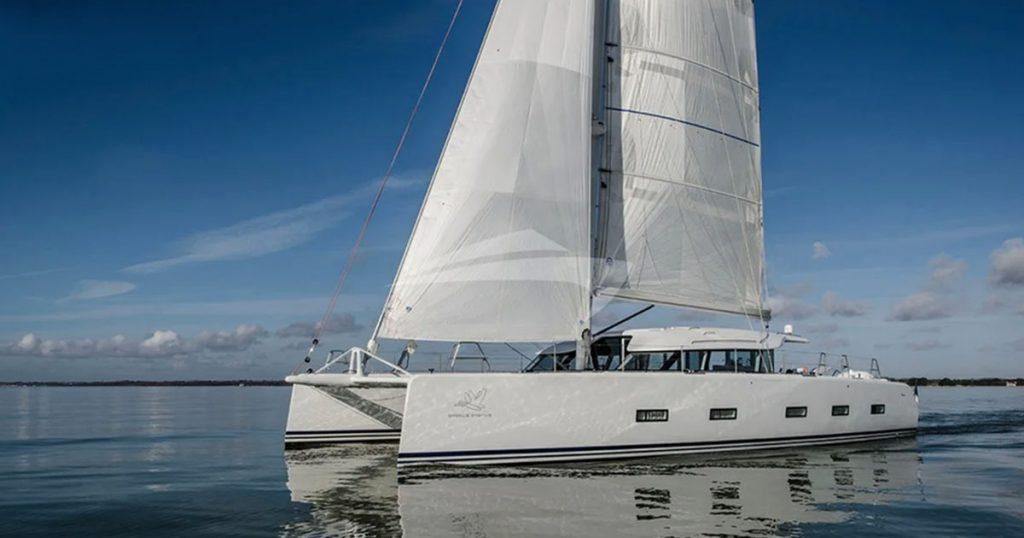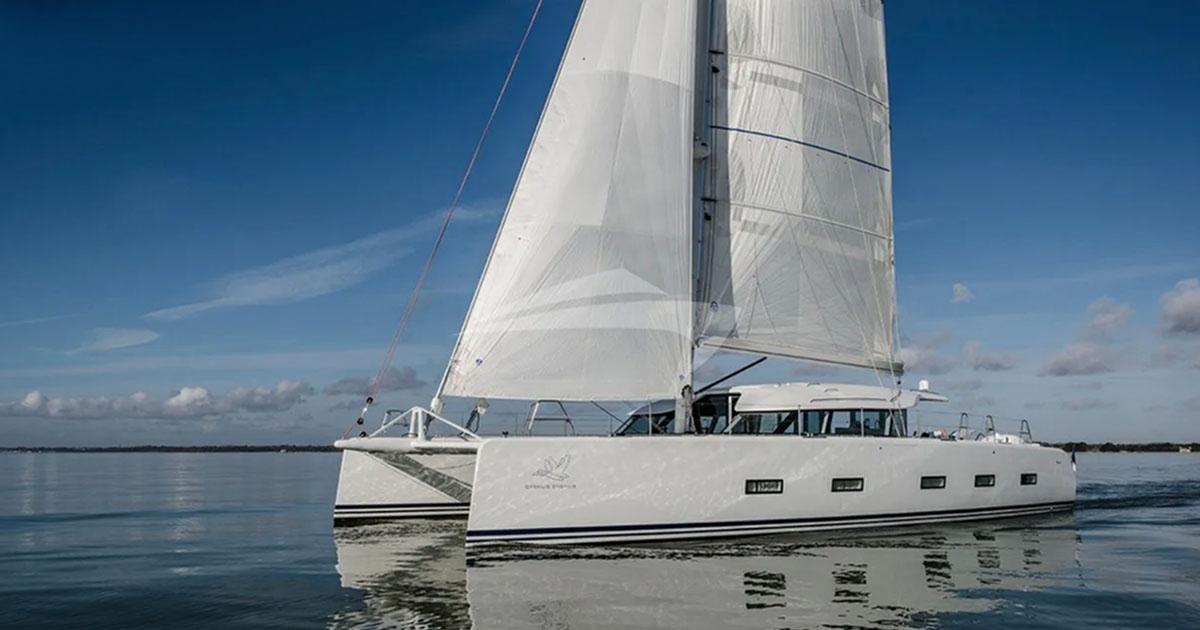 Fully-crewed New England yacht charters on Cygnus Cygnus are available. This 60-foot luxury catamaran will be booking yacht vacations in Summer 2021. Email Nicholson Yachts for details and charter calendar. Or speak to a charter agent at 401-849-0344.
About catamaran Cygnus Cygnus
Cygnus Cygnus is a design of the world-renowned naval architect Gérman Frers. Built in Finland by Ocean Explorer, she launched in 2017. Due to this first-class pedigree she offers remarkable sailing performance. Equally important, is the elegant European styling. Her lines are pleasing. Guest comfort is exceptional.
Named after a species of swan, Cygnus Cygnus represents a rare bird. She offers a unique combination of traits. First, she can satisfy the sailor's need for thrilling performance. At the same time, Cygnus Cygnus offers desirable yacht charter amenities.
Take a look at the manufacturer's video on the Nicholson Yachts YouTube channel. Cygnus Cygnus sails beautifully. It's easy to imagine your own sailing adventure on a luxury New England yacht charter.
Specifications luxury catamaran Cygnus Cygnus
Length: 60 feet
Beam: 29 feet
Draft: 3 feet
Cabins: 4
Guests : Up to 8
Crew: 2
Year built: 2017
Refit: 2018
See full specifications and complete photo gallery for CYGNUS CYGNUS
Catamaran charter lifestyle and activities
One advantage of a catamaran charter is the shallow draft. Accordingly, this allows Cygnus Cygnus to access bays, inlets and beaches where others can't go. Charter guests also love the easy access to the water. Decks spaces provide comfortable areas for both sun and shade.
Another catamaran advantage is the use of space. Guests enjoy the privacy and tranquility of stylish cabins. When guests are ready to socialize, open deck areas and large saloon allow plenty of room to mix and mingle. Dining is a highlight onboard. The yacht's chef prepares custom menus tailored to guest requests. Luxury catamaran Cygnus Cygnus allows the right balance of time under sail, leisure time at anchor and in port.
New England yacht charters for 2021
For many Americans, New England yacht charters are an easy getaway. Obviously it's convenient to eastern cities like Boston and New York. However it's also convenient to residents in the southeast. A direct flight from Miami to Boston is just over 3 hours. From Atlanta flight time is under 3 hours. Nicholson Yachts can help plan a yacht vacation wherever you live. For details email [email protected]. Or call us at 401-849-0344.
While sailing is the highlight of a yacht charter, you can enjoy land-based activities as well. Talk to our yacht charter experts about your interests. From hiking and biking to golf and tennis options abound. New England has many islands and harbors to explore. Some are famous and lively. Some are remote and quiet. The charter experts at Nicholson Yachts will design the perfect yachting holiday for you.
Yacht charter updates from Nicholson Yachts
80′ Trumpy yacht charters on BB on Intracoastal Waterway Spring 2021
Catamaran GENESIS offers 10% discount through May 2021.
97′ SOVEREIGN New England yacht charters Summer 2021
90′ Catamaran ORION in the Med for Summer 2021.
75′ MATAU chartering the Caribbean in 2021.
New England yacht charters on 111′ AURELIUS Summer 2021.
If you wish to keep current on charter yacht news then subscribe to our weekly newsletter. You're also invited to search yachts for charter on our website. There you will find charter yachts in every price range. Let's keep in touch.
Charter destinations beyond New England
Nicholson Yachts also offers charter vacations worldwide. Whether you're looking for domestic or international travel, we have options. Other U.S. destinations include Great Lakes, Florida, and the Intracoastal Waterway. Both the Bahamas and Bermuda are close to home. Summer 2021 destinations for the Mediterranean include Greece and Croatia. Nicholson Yachts can help you navigate the yacht charter opportunities for 2021 and 2022.
Cygnus Cygnus is not for sale or charter in U.S. waters.
#nicholsonyachts #lukebrownyachts #yachting #luxuryyacht #yachtcharters #luxuryyachtcharters #yachtlife #catamaran #oceanexplorer #catamarancharter #newengland