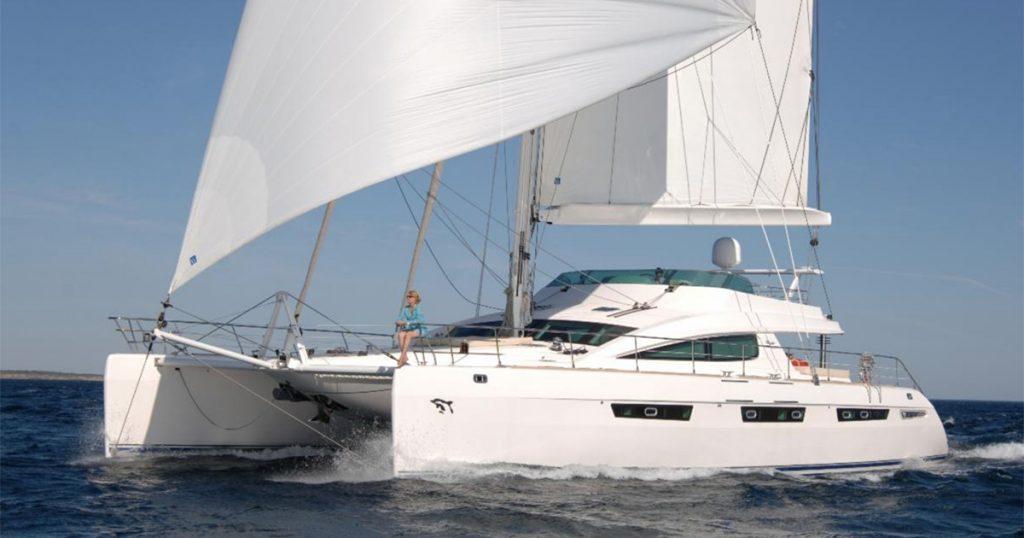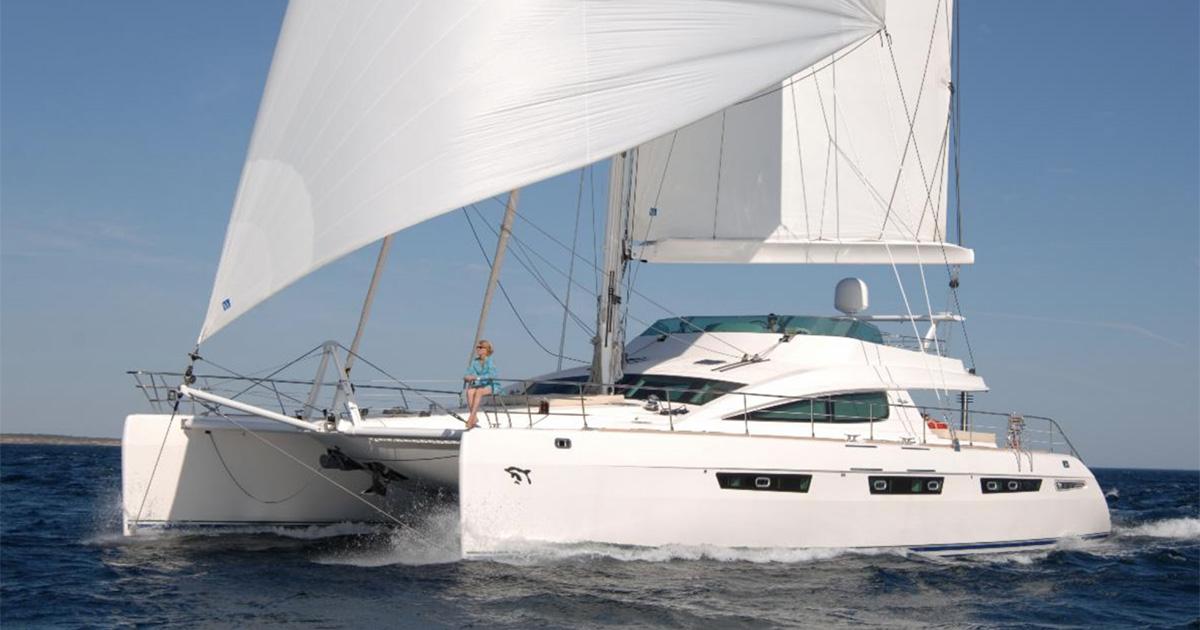 2021 Caribbean Yacht Charters on the 75' Privilege Catamaran MATAU are now available through Nicholson Yachts. Call 401-849-0344 to book select dates this summer.
The 75' charter catamaran MATAU offers charter guests the perfect way to explore the Caribbean this summer. The generous length, when combined with the 38' beam provide a very large platform for charter fun. Accommodating up to eight guests MATAU is arranged with three queen cabins plus a master cabin. Due to this flexible layout, MATAU can easily host a family, an extended family, a group of friends or several couples. Yet it is intimate enough for a couple to enjoy in complete privacy.
Activities Onboard Charter Catamaran MATAU
Caribbean yacht charter guests love the water. Accordingly, the 75' Privilege Catamaran provides every opportunity for guests to enjoy the inviting tropical water. First and foremost, there is the fabulous "teak beach" with space enough to sunbathe. Broad stairs leading down to water. From here guests enjoy swimming, snorkeling and other water activities right from the boat. After a swim, rinse off with a freshwater shower and relax with a cool drink on deck.
Due to the massive 38-foot beam there is lots of deck room. The aft deck, bridge deck and wide trampolines each offer places to mingle or rest in solitude. During the time spent on board, guests will find their own favorite spots to hang out and unwind.
The yacht chef is highly trained and experienced at serving beautiful meals inspired by the local flavors available. If you or members of your party have special dietary needs, simply discuss them with your charter representative from Nicholson Yachts. Your yacht chef will cheerfully accommodate guest requirements in menu planning.
While there is so much to do on board, the Caribbean offers many intriguing islands and beaches to explore. MATAU's captain and crew have plenty of first-hand knowledge and can show you the best the area has to offer.
Accommodations on 75' charter catamaran MATAU
MATAU accommodates up to eight guests in four cabins. All three of the queen cabins are well equipped for guest comfort. Each is complete with an ensuite bath, walk-in shower, air conditioning, stereo system and a flat screen television. Every guest will feel welcome and comfortable during their stay on board.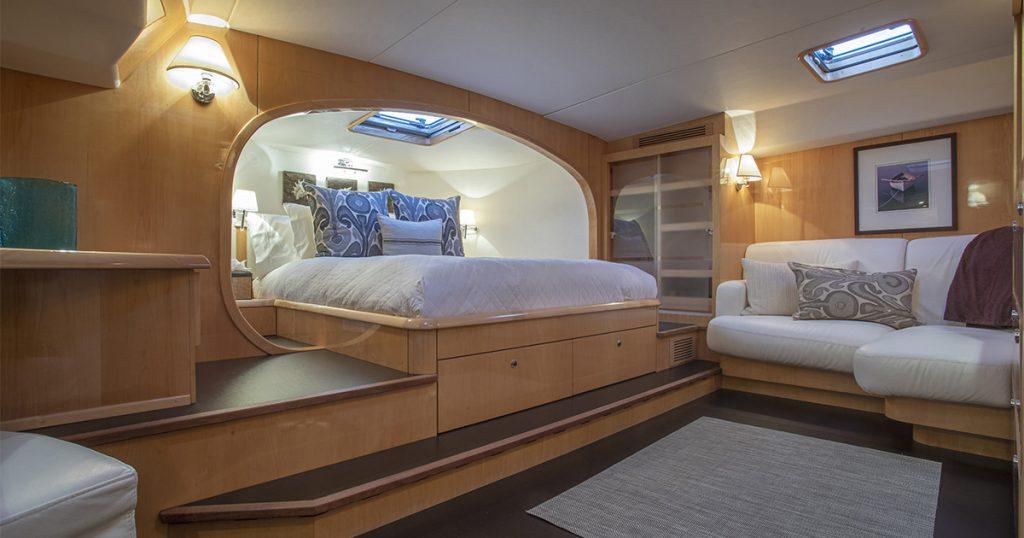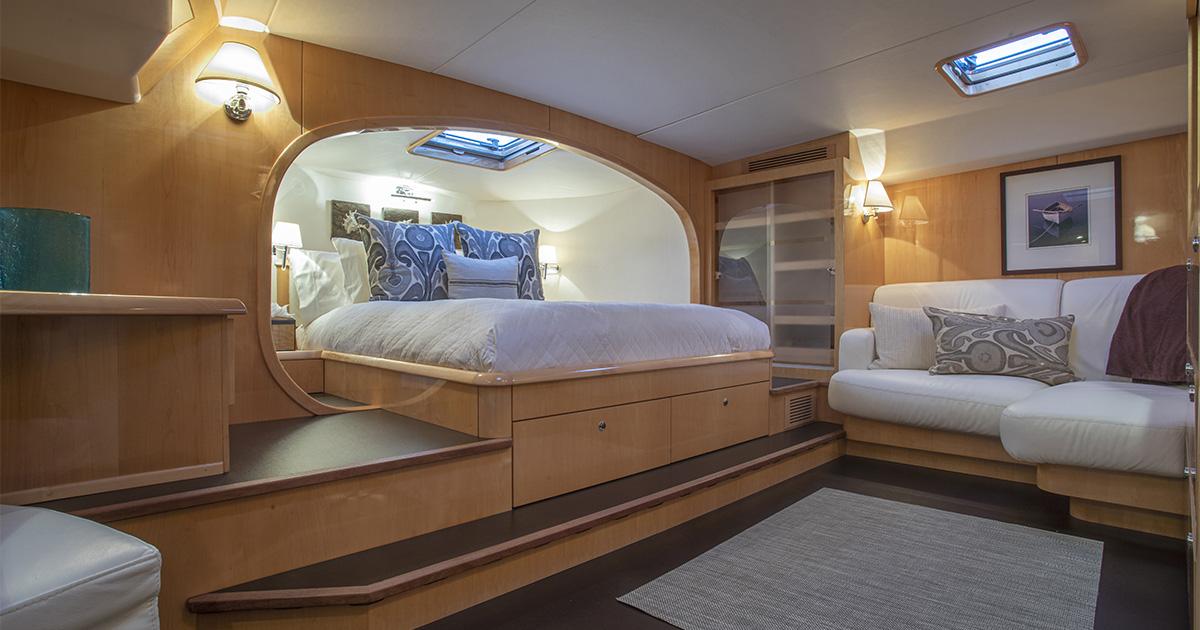 While each guest enjoys a luxury experience whatever their cabin choice, the master cabin is exceptional. In addition to the amenities of the other cabins, the master suite includes a king bed and private sitting area. The large master bath ensuite includes a full-size Jacuzzi tub.
About the 75' Privilege Catamaran
Privilege Catamarans are a proven and reliable sailboat brand for Caribbean yacht charters. Guests love these charter-friendly catamarans due to the open plan layout. However, MATAU has taken the the 75' Privilege to a whole new level offering a super-yacht quality experience.
Basic specifications
Guests: 8
Guest cabins: 4
Crew: 4
Length: 75'
Beam: 38'
Draft: 7"
Launched: 2006
Refit: 2019
For complete details on MATAU, call 401-849-0344 and speak with Julia or Karen at Nicholson Yachts.
2021 Caribbean Yacht Charter Restrictions
International travel restrictions are ever-changing for the 2021 Caribbean yacht charter season. If you are thinking of an international yacht vacation then you can count on Nicholson Yachts to keep you informed. As full-time yacht charter specialists, the team at Nicholson Yachts keeps up to date on travel requirements around the globe. If you would like help in planning your yacht charter holiday, then call Nicholson Yachts at 401-849-0344.
Other options for charter destinations and itineraries in 2021 and 2022
Nicholson Yachts can also help you plan a yacht charter vacation on any charter vessel worldwide. In addition to 2021 Caribbean yacht charters, Nicholson Yachts is booking yacht vacations in the Bahamas, the U.S., New England and Europe. Depending on the charter yacht, dates may be booked as early as Spring 2021. In addition, bookings are now being made for itineraries in 2022. Whether you wish to charter a catamaran, a monohull sailboat or a motor yacht, Nicholson Yachts is qualified to help. Nicholson Yachts is the world's original yacht charter company offering expertise since 1949.
If you are a past charter client of ours, "Welcome back!" If you are brand-new to chartering, "Welcome aboard!" Please give us a call at 401-849-0344, we'd love to hear from you. In addition to Caribbean yacht charters, Nicholson Yachts books charters in the Bahamas, North America, Europe and Asia.
Based in Newport, Rhode Island Nicholson Yachts books yacht charters worldwide. Nicholson Yachts offers yacht sales through the Luke Brown yacht brokerage headquartered in Fort Lauderdale, Florida.
More yacht charter news from Nicholson Yachts
Catamaran GENESIS offers 10% discount through May 2021.
97′ SOVEREIGN New England yacht charters Summer 2021
New England yacht charters on 111′ AURELIUS Summer 2021.
72′ SKYLARK booking charters beginning May 1, 2021.
50′ PARADIGM SHIFT joins Nicholson Yachts fleet
Memorial Day Travel Planner for yacht charter vacations 2021
Bahamas Travel Restrictions Ease May 1, 2021
Croatia Open for Travel Summer 2021
Greece to Reopen to Travelers May 14, 2021
Travel Restrictions and Opportunities for 2021
New England charters on 60′ catamaran CYGNUS CYGNUS
Post updated May 5, 2021