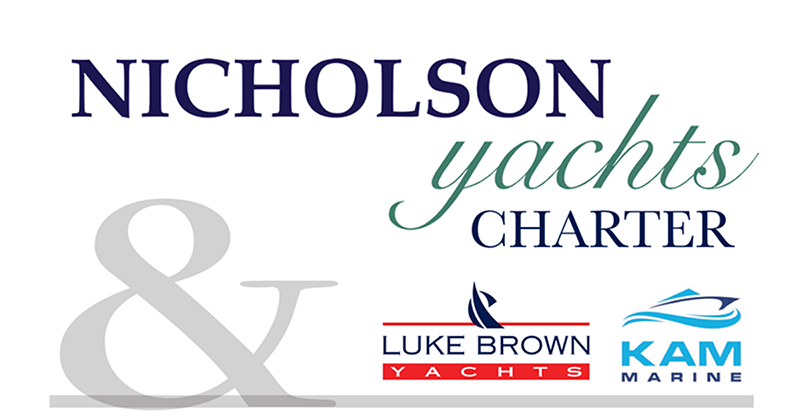 Nicholson Yachts charter company and Luke Brown yacht brokerage now join forces with KAM Marine. Together these three brands offer worldwide yacht vacations, yacht sales, management, marinas and services for boat owners.
At Nicholson Yachts clients will keep their trusted relationships with our friendly yacht charter team. What's new is the seamless access to a large network of yachting services and facilities. This means we can offer more to our clients while keeping the personal touch that is so important.
Together, our group has 11 locations – Rhode Island, New York, Florida, Michigan and the Bahamas. Our combined team of more than 25 licensed yacht and charter brokers is ready and able to serve the needs of yacht owners, boat buyers, charter guests, and crew.
Nicholson Yachts – the original charter company
Since 1949 Nicholson Yachts has been matching clients with their dream vacations. Our yacht charter guests enjoy a personal relationship with our charter team. As a pioneer in the yacht charter industry, our team knows how to plan the perfect vacation experience. We draw on decades of experience and reliable service. As a result, we can guide clients in the selection of the right yacht and destinations for their needs. Custom itineraries match the desires and budgets of our guests with our team of professionals handling the details of vacation logistics

Private yacht vacations are offered in U.S. waters and beyond. From the islands of the Caribbean and the Bahamas to Europe and the Mediterranean the choice is yours. With Nicholson Yachts you can travel anywhere on the globe you can think of. Or maybe the destination ideal for you and is one you haven't yet considered. Let Nicholson Yachts be your guide to a memorable yacht vacation.
For yacht owners, Nicholson Yachts provides yacht management, charter management and crew placement services. From our headquarters in Newport, Rhode Island we serve clients worldwide.
Joining with Luke Brown and KAM Marine

Nicholson Yachts is happy to be working with our friends and Luke Brown Yachts. Luke Brown yacht brokerage is based in Fort Lauderdale, Florida and continues as an industry leader since 1969. The easily recognized "Luke Brown Building" is just off the 17th Street Causeway. Due to its proximity the landmark Southport Raw Bar and the new Quarterdeck Restaurant, it's hard to miss. Fort Lauderdale's claim as the "Yachting Capital of the World" is supported by the 50,000 yachts registered here. As a result, South Florida is also home port for many charter yachts. With so many choices of vessels and destinations, Fort Lauderdale is a popular starting point for yacht vacations to the Bahamas and the Florida Keys.

KAM Marine is noted for its network of yacht brokers, marinas and boatyard locations throughout the Great Lakes. Headquartered in the Marina District of Detroit, Michigan the KAM facilities serve the vast Inland Seas of North America. The Great Lakes offer 10,000 miles of coastline, 35,000 islands to explore, and excellent fishing. Since the region also has a friendly population the Great Lakes have a reputation as a hassle-free destination for boating and vacationing. Summer yacht charters are especially popular with families due to the convenience. Nicholson Yachts is proud to be a part of the KAM Marine group of companies.
Working together to serve you better
Since Nicholson Yachts is now a part of a larger team, we can offer our clients more quality services in more places. We welcome you to the world of charter yacht vacations. Whether you are an long-time client or brand-new to the charter yacht vacations we offer you reliable expertise. Due to our decades of experience, we can help you plan the perfect vacation. Please give us a call at 401-849-0344. We're ready to get you on the water.
More Yachting News from Nicholson Yachts
Greece to Reopen to Travelers May 14, 2021
Travel Restrictions and Opportunities for 2021
Bermuda Yacht Charters now available in 2021
At the Palm Beach International Boat Show 2021
Nicholson Yachts, KAM Marine and Luke Brown Yachts combine in 2021
Tax benefits of charter yacht ownership

#nicholsonyachts #lukebrownyachts #kammarine #yachting #yachtcharters #yachtvacations #yachtbrokerage #yachtsales #marinas #yachtlife #greatlakes #puremichigan #bahamas #newport #fortlauderdale #floridakeys