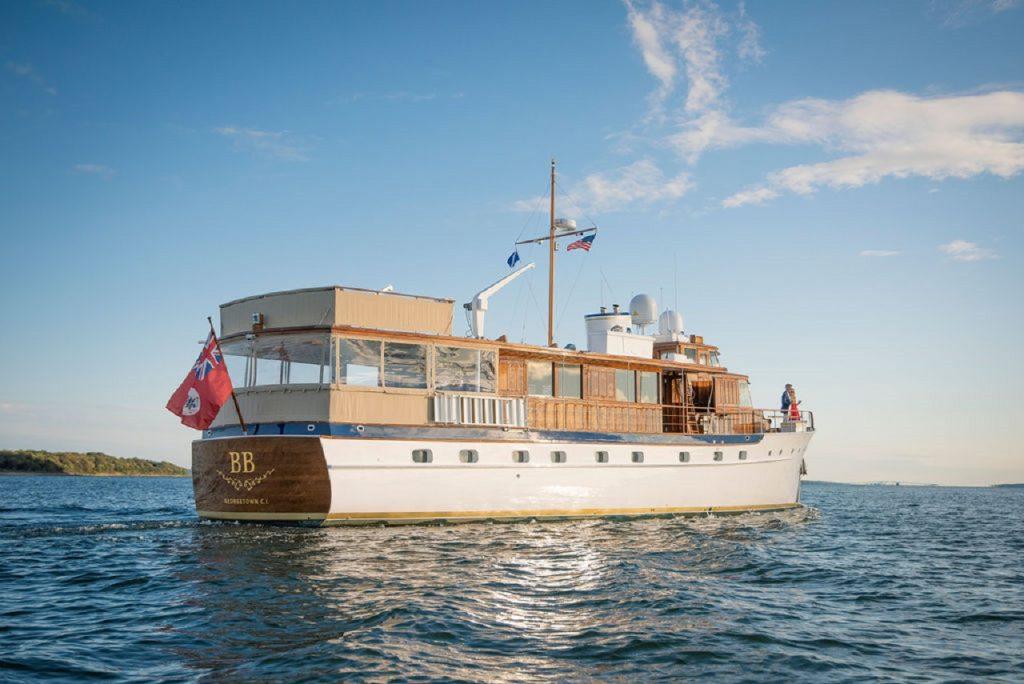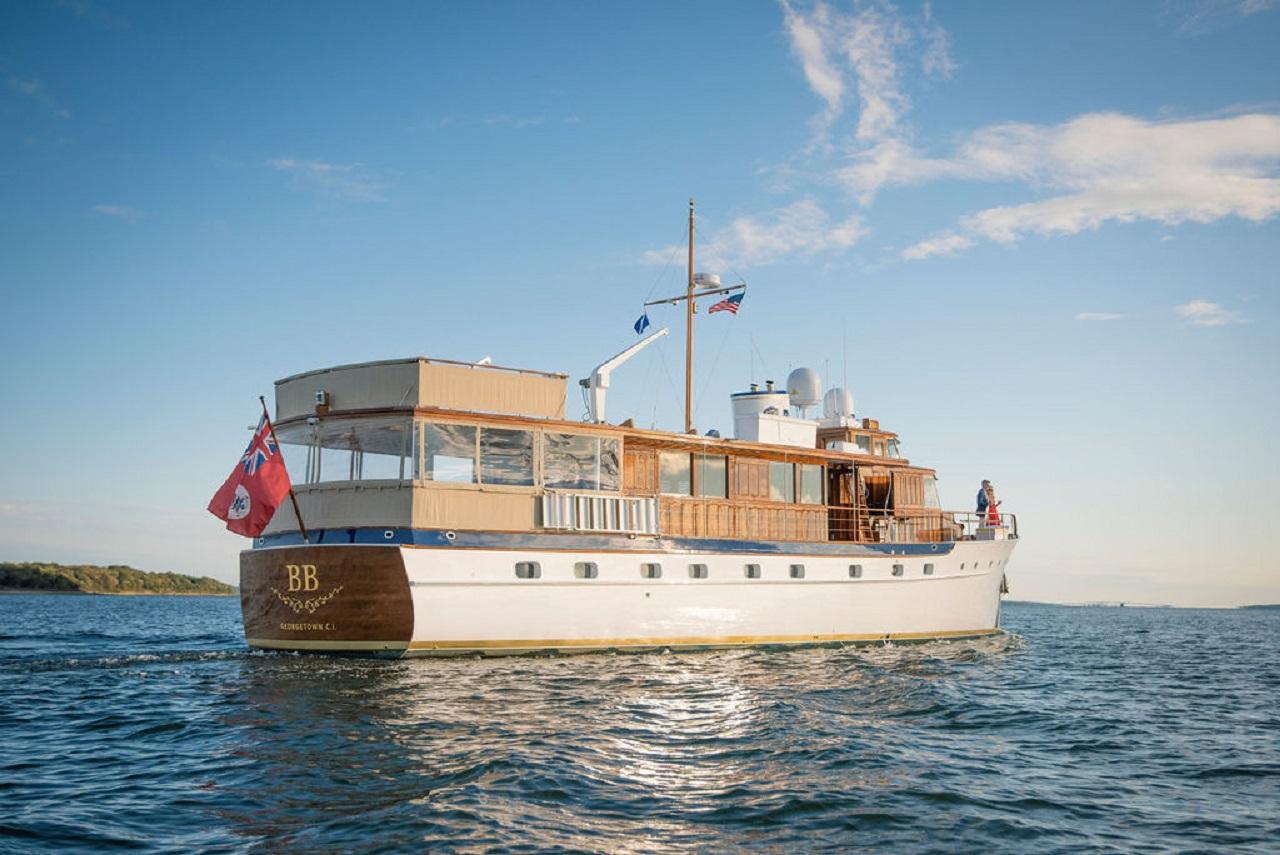 When the current owner purchased the yacht in 2017, the 1947 Trumpy Motor Yacht was in sad condition. The new owner was at once committed to returning this treasure of American yacht building to her original splendor. He commissioned some of the best wooden boat experts in the US for a total, museum-quality restoration. This included adding or updatign to modern amenities & comforts – air conditioning, all new electronics, appliances, navigation, satellite communication, internet & television. He did not know when he purchased her, that the restoration would involve replacing 80% of the timber which had rotted from age & improper maintenance. BB received a new wood keel, framing, planking, decks, superstructure & interior paneling & components. Any wood elements not able to be saved or restored were authentically replicated to match the original in quality, material & style. Spanning 3+ years the cost was in the millions of dollars. The restoration also involved countless hours of research to find original drawings, articles, and old photographs.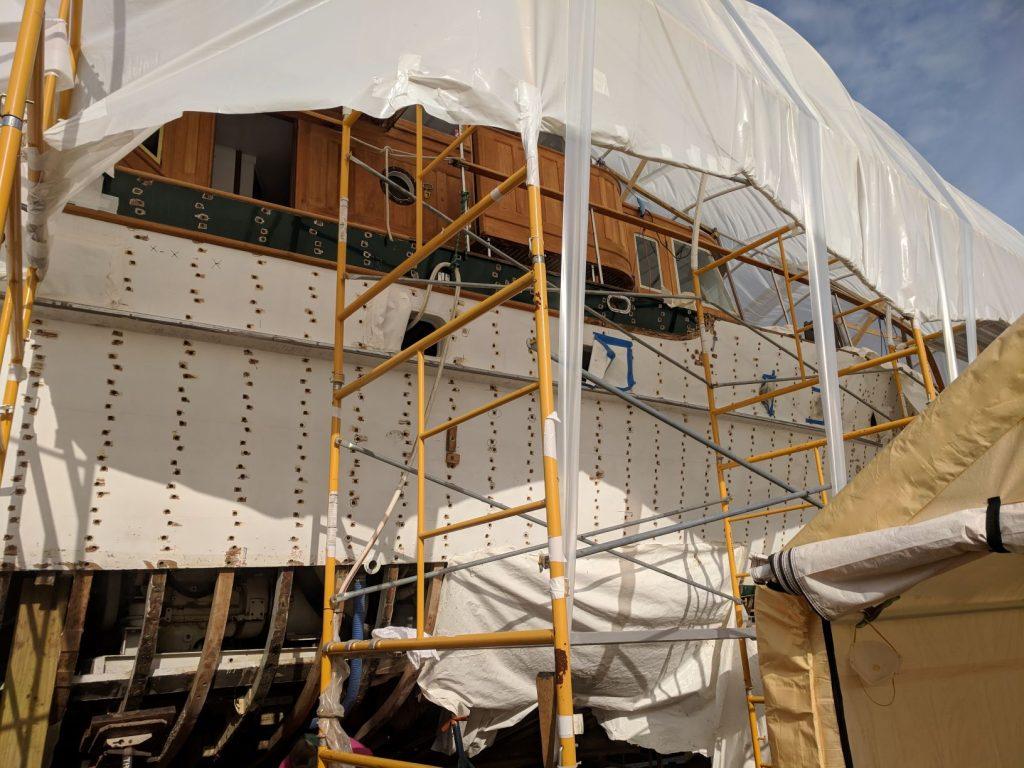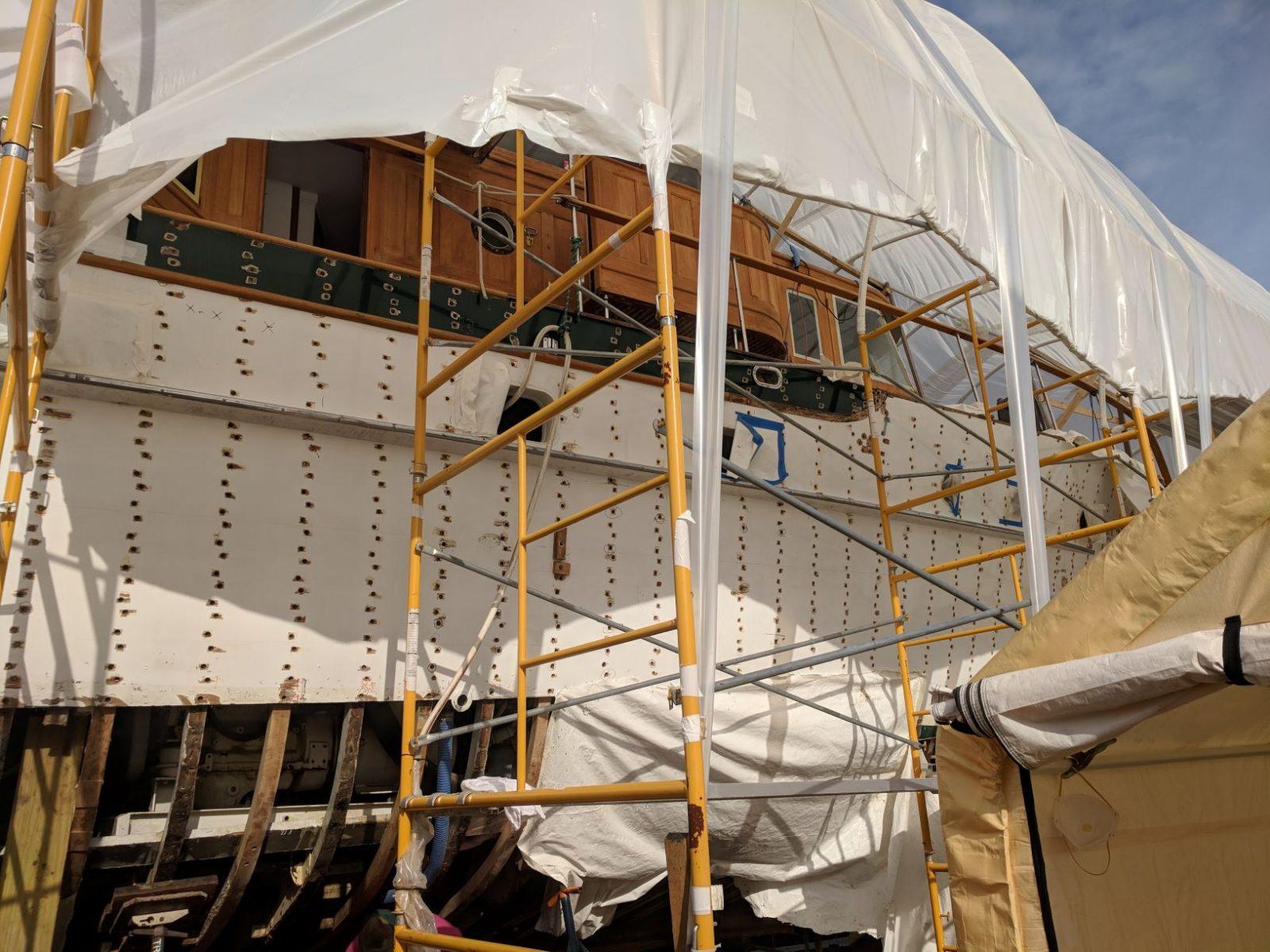 Restored Trumpy Motor Yacht BB was launched in 1947
1947 was indeed a remarkable year. The world was rebuilding from the devastation of WW II, and the Cold War is well underway. Voice of America began broadcasting, and President Harry S. Truman implemented the Truman Doctrine. The House Un-American Activities Committee began investigating alleged infiltration of communism in Hollywood, and Chuck Yeager flew a Bell X-1 rocket plane faster than the speed of sound. Jackie Robinson signed as first baseman with the Brooklyn Dodgers marking the beginning of the end of racial segregation in professional baseball. The Dodgers mae the World Series that year, to be defeated 4 games to 3 by the New York Yankees. The first VW Beetle was imported into the US, Tennessee Williams' play A Streetcar Named Desire opened on Broadway, & an elegant 80' wooden motor yacht, designed & built by John Trumpy & Sons was launched – as a veritable masterpiece of American luxury yachting.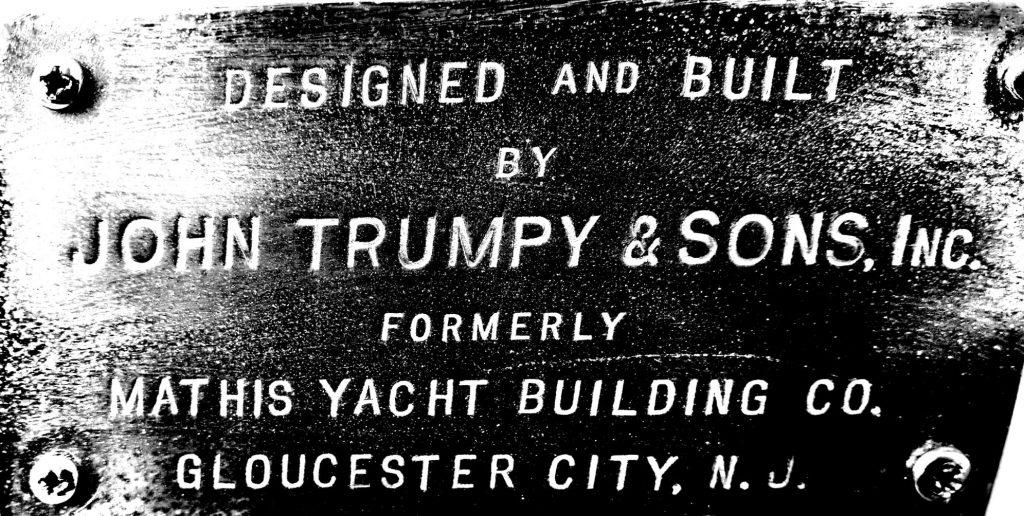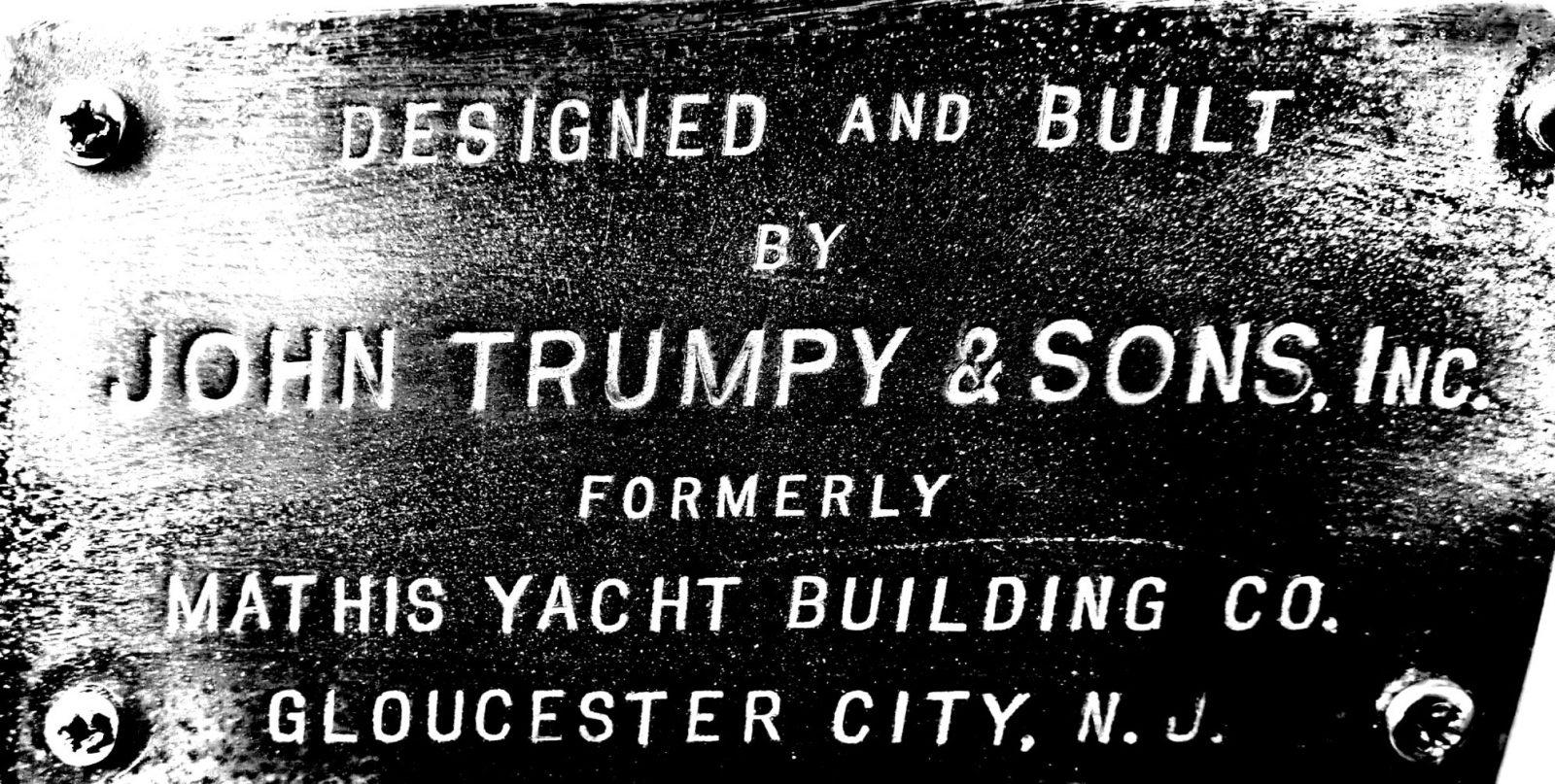 The Trumpy "Houseboat"
John Trumpy called the model a "houseboat" because the 1947 design for a luxury wooden yacht offered all the comforts of home including a telephone. BB has an overall length of 80', a beam of 18' & draft of 4'9", spacious interior & exterior areas with private accommodations for 6 guests & seperate area forward for a crew of 3.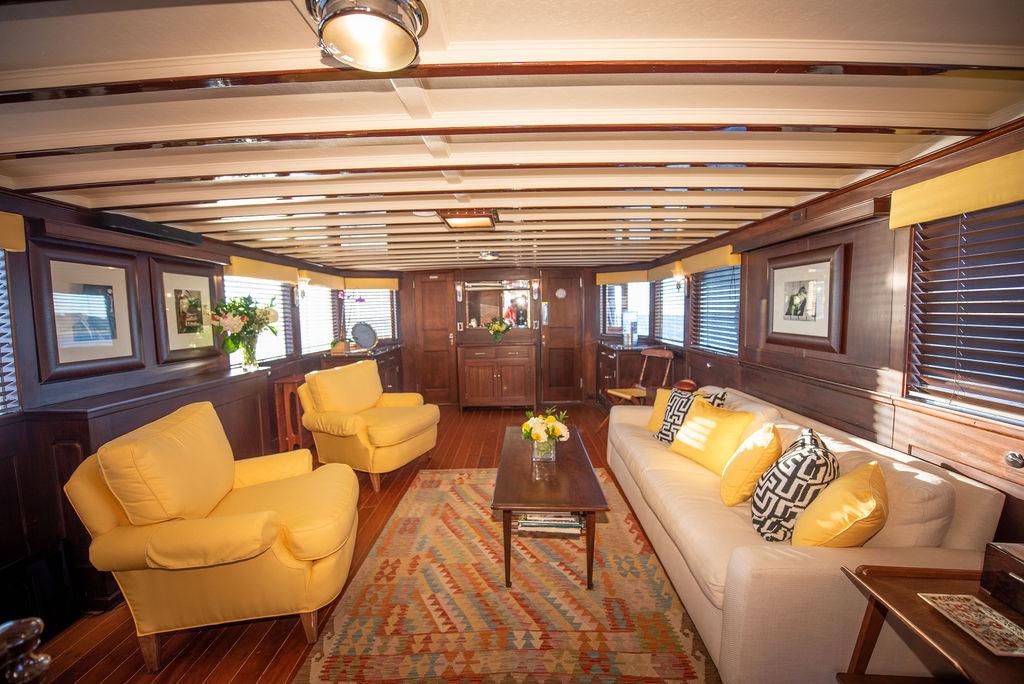 Deck, Exterior & Interior of BB
There are generous walk-around decks & high stations with varnished teak cap rails. The foredeck offers plenty of seating with built in forward-facing cushioned settee against the housing, plus matching port & starboard cushioned deck boxes.
Moving aft is the "card room" – from an era when a game of Bridge was a popular pastime, this room doubled as the original owner's office. There is a forward-facing settee offering great panoramic views while underway or at anchor, a card or coffee / cocktail table & custom daybed for an extra guest, or an afternoon nap.
Next aft & up a few steps is the modernized bridge & helm station with elegant balsonette style port & starboard bridge wings for ease of docking & navigation. Moving further aft on the main deck level is a full-service butler's pantry, equipped with a generous sink, lots of stainless counter space for toaster, coffee maker, mixing cocktails or preparing snacks. Lower stacked storage drawers for dry goods & linens and above are attractive glass & teak doored cabinents to display pretty china & crystal. This is a great self-service area for guests with undercounter refrigerator, ice maker & rubbish compartment, & an efficient prep area for the yacht's crew providing seamless guest service.
From the pantry forward to starboard are stairs down to the full galley, laundry area, crew accommodation, captain's office & engine room access aft. The restored & modernized galley has butcher style counter tops, integral sink, lots of storage, commercial size separate refrigerator & freezer, 2 opening ports, with teak & ash sole throughout. Generous sound insulation throughout allows for nearly silent operation of all systems.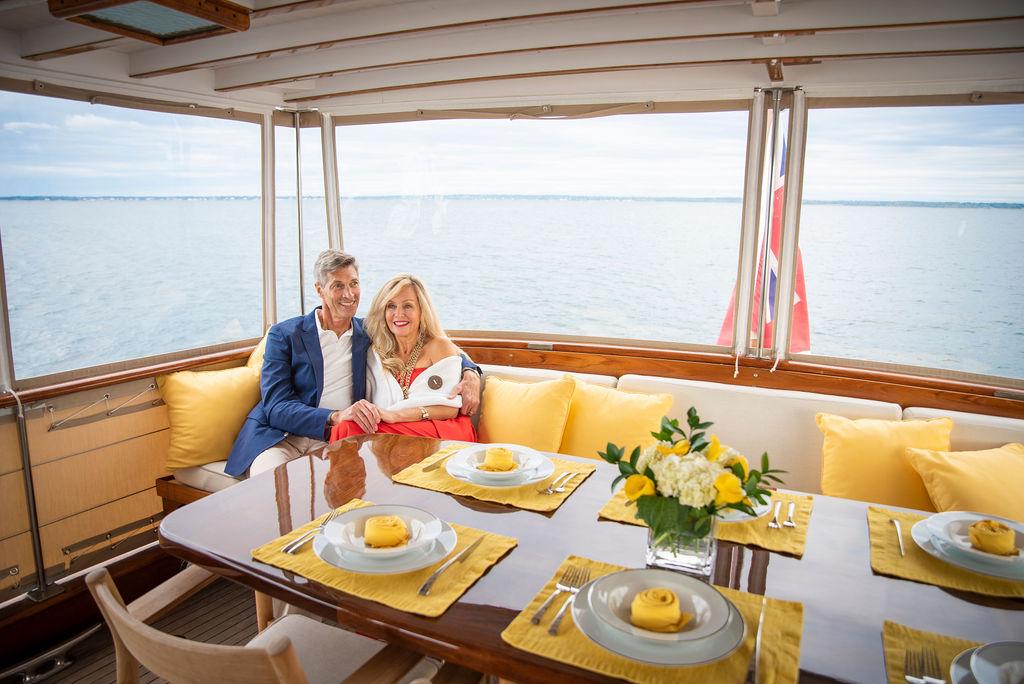 BB's Authentic Restoration
Back on the main deck and stepping aft from the pantry you are welcomed by abundant natural light from the large windows of the open & airy salon. The interior of 1947 Trumpy Motor Yacht BB is decorated with authentic period furnishings and built-ins throughout – some are antiques & some reproductions – all circa 1947.
Beautiful rubbed-mahogany paneling & mahogany crown moldings are accented by a white acoustic insulated overhead mahogany with high gloss varnished teak trim strips. Midships to port is a day head with original Trumpy fold-up sink. A server on the forward bulkhead with built-in mirror above beautifully reflects the natural light from the windows. Period glass sconces light up the salon when the sun sets. At the push of a button what could be 1947 becomes 2021 as a 44" television rises from the port bulkhead. Décor is simple yet elegant with custom wood venetian blinds & linen valances, restored floor timbers, white upholstery with yellow accent cushions. Built in storage below windows along the starboard side and original Trumpy mahogany desk that has leaded glass doors above to display books sits on the starboard aft bulkhead & all add to the inviting houseboat feel. Continuing aft through the salon on the port side is the stairway to the lower deck generous & elegant guest accommodations.
Centerline aft in the salon the lovely, varnished teak half-glass door opens out to the aft deck, with a teak brass-screened door that opens inward. The aft deck has a large custom-built teak oval dining table with gleaming varnish. This large table offers spacious seating for 8-10, with a curved comfortable banquette aft and 4 sturdy mid-century teak dining chairs. There is plenty of space for deck lounge chairs or other seating. Continued from the interior is the mahogany overhead painted in white enamel with high gloss varnished teak trim strips. Custom canvas side panels surround the entire aft from the deck up to the cap rails. From the cap rail to the overhead are isinglass curtains that roll up or down to allow the space to be enjoyed in any weather.
BB – The Most Beautiful Yacht
Today the fully restored BB is by far the most photographed yacht in any harbor. The restoration of this gem of American yachting history has also garnered considerable attention in the international media with recent articles in The Daily Mail and Epicuren Life UK (see links below). BB will be featured in the next issue of Boating New Zealand and was one of the featured yachts in the recent Virtual Classic Boat Show.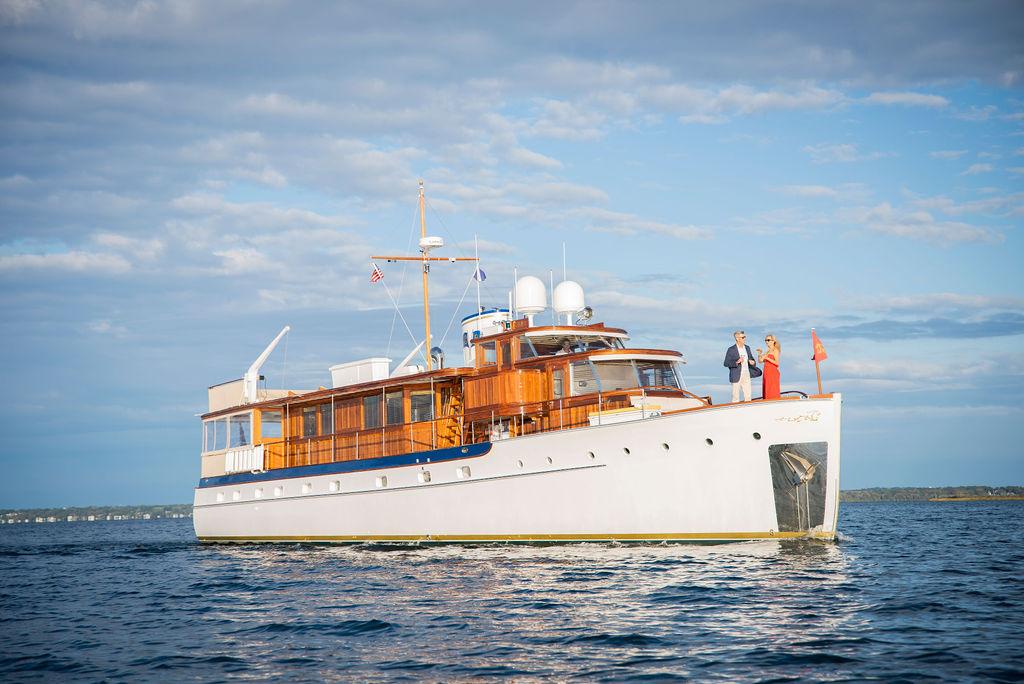 So Why Restore a Vintage Yacht?
74 years after BB was launched & delivered to her original owner by John Trumpy & Sons, she is again in pristine condition. In another 74 years she may still be turning heads & prompting admirers to photograph her on their latest i-Phone 3000 as she enters a harbor. All thanks to a man with passion, vision the means to undertake this noble restoration project.
BB is for Sale or Charter
1947 Trumpy Motor Yacht BB is available for luxury yacht charter through Nicholson Yachts for Bahamas yacht charters or South Florida yacht charters during the winter and for summer New England yacht charters. She is for sale by Nicholson's yacht sales partner Luke Brown Yachts. When considering the purchase of a yacht, particularly a classic wooden yacht, always work with a reputable sales broker like the team of stellar professionals at Luke Brown. You should always have the purchase survey done by an expert in classic wooden boats. To inquire about a yacht charter, schedule an appointment for a private showing of BB or to inquire about Palm Beach Boat Show tickets please email: [email protected]
The Best Fully-Restored Trumpy on the Market will be on Display at the Palm Beach Boatshow
Come see for yourself this beautifully restored 1947 Trumpy Motor Yacht, she will be on display at the Palm Beach Boat Show 25-28 March 2021 at the Palm Harbor Marina.
BB articles:
The Daily Mail: https://www.dailymail.co.uk/travel/travel_news/article-9240691/Treasure-maritime-history-sale-Classic-houseboat-built-1947-market-2million.html
Epicurean Life: https://www.epicureanlife.co.uk/post/3-of-the-world-s-most-amazing-superyachts-each-with-a-phenomenal-heritage
BB in the Virtual Classic Boat Show: www.ClassicBoatShow.com
#nicholsonyachts #lukebrownyachts #trumpyyachts #yachting #classicyacht #woodenyacht #woodenboat #vintageyacht #restoredclassic #restoredtrumpy #luxuryyacht #yachtcharters #classicyachtcharters #luxuryyachtcharters #yachtlife #classiccharters #classicboatshow #pbboatshow