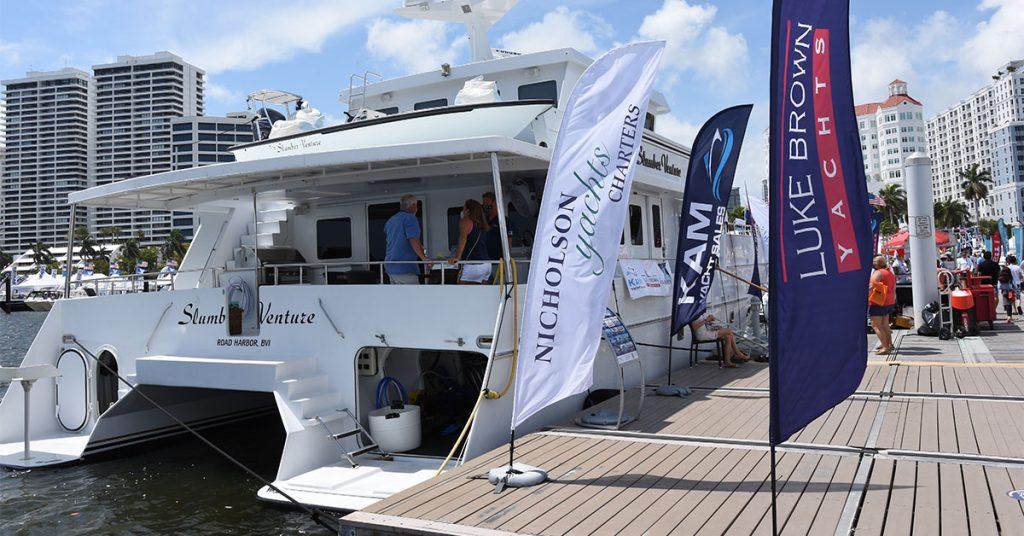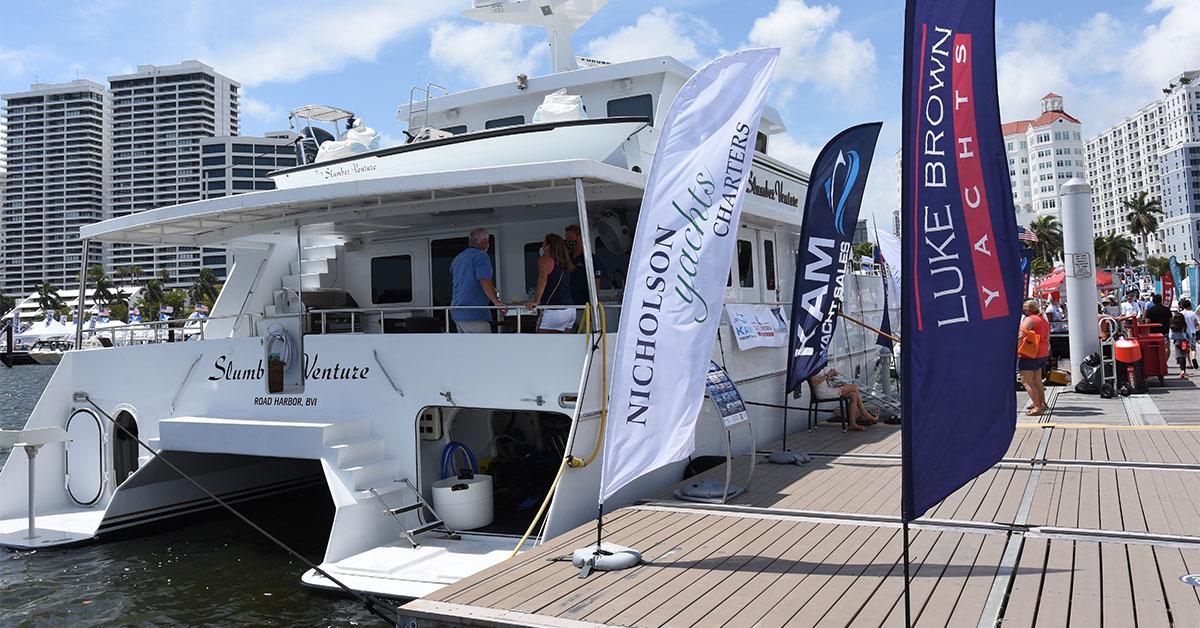 Nicholson Yachts, Luke Brown and KAM Marine are on display at the 2021 Palm Beach International Boat Show. Find the team at the end of Dock 8 on the Intracoastal Waterway. Whether you are interested in yacht charter, yacht sales or general marine services for boat owners — our team has representatives on the dock ready to answer your questions. The Palm Beach International Boat Show (or PBIBS for short) is open to the public and runs from Thursday, March 25 through Sunday, March 28, 2021. The show is located at 101 S Flagler Drive in West Palm Beach, Florida.
The first day of the 2021 Palm Beach International Boat Show was glorious. Plenty of Florida sunshine, refreshing breezes and a great turnout. Exhibitors and visitors alike are happy to see the PBIBS back after a year off. For Luke Brown and KAM yacht brokerage opening day was busy showing yachts for sale and taking offers. Nicholson Yachts connected with charter clients as well as yachts available for charter.
Working for you at the Palm Beach Boat Show
Nicholson Yachts works on behalf of our clients throughout the boat show. First is the time we spend with yacht charter clients. There's nothing like meeting face-to-face (or in 2021 mask-to-mask) surrounded by boats. Second is the opportunity to visit yacht charter vessels, their captains and their crew. In combination, Nicholson Yachts is able to provide the most informed and most personal service possible. Do you have any questions for our yacht charter specialists Karen and Julia during PBIBS? If so, please call the office number 401-849-0344 and we'll get back to you. We're happy to meet with you at the show. If you aren't in the area, we are able to check things out on your behalf here in Florida.
Keeping current with travel and tourism in 2021
Another important service that Nicholson Yachts provides is keeping current with travel and tourism opportunities and restrictions in 2021. International travel has always involved a degree of complexity. Coordinating guest desires with international guidelines is an area that Nicholson Yachts charter understands. Since 1949 Nicholson Yachts has been organizing yacht charters for international travel. Boat and charter shows give our charter experts the chance to meet with official representatives of travel and tourism organizations in the U.S. and abroad. In spite of all the challenges, travel in general and yacht charters in particular remain vitally important to destinations.
At PBIBS 2021 the Bermuda Tourism Authority and Visit Fort Lauderdale will be updating us on current yacht chartering policies and a new nautical tourism partnership. Stay tuned, as soon as we have all the details, we will post them here.
Keeping safe at the PBIBS 2021
Our yachts on display are keeping with the local government and CDC regulations and protocols for safety. Our yacht and charter brokers are wearing masks. Brokers, owners and guests maintain social distance at the yachts we have on display. Of course, keeping yachts clean and sanitized is nothing new to Nicholson Yachts and Luke Brown. Keeping a charter or brokerage yacht ship-shape is what we do every day.
Visit us at PBIBS 2021
If you are in the area, please stop by and see us at the end of Dock 8 where you will see our flags. Between Nicholson Yachts, Luke Brown yacht brokerage and KAM Marine we have five boats in the water and available for viewing. However, these yachts are just a sampling of the boats that we have for sale and for charter. Through our network of 11 locations, our team represents yachts for sale and charter throughout the United States and worldwide.
More Yachting News from Nicholson Yachts
Croatia Open for Travel Summer 2021
Greece to Reopen to Travelers May 14, 2021
Travel Restrictions and Opportunities for 2021
Bermuda Yacht Charters now available in 2021
Nicholson Yachts, KAM Marine and Luke Brown Yachts combine in 2021
Tax benefits of charter yacht ownership

#boatshow #palmbeachboatshow #PBBOATSHOW #nicholsonyachts #lukebrown #KAMmarine #yachtlife