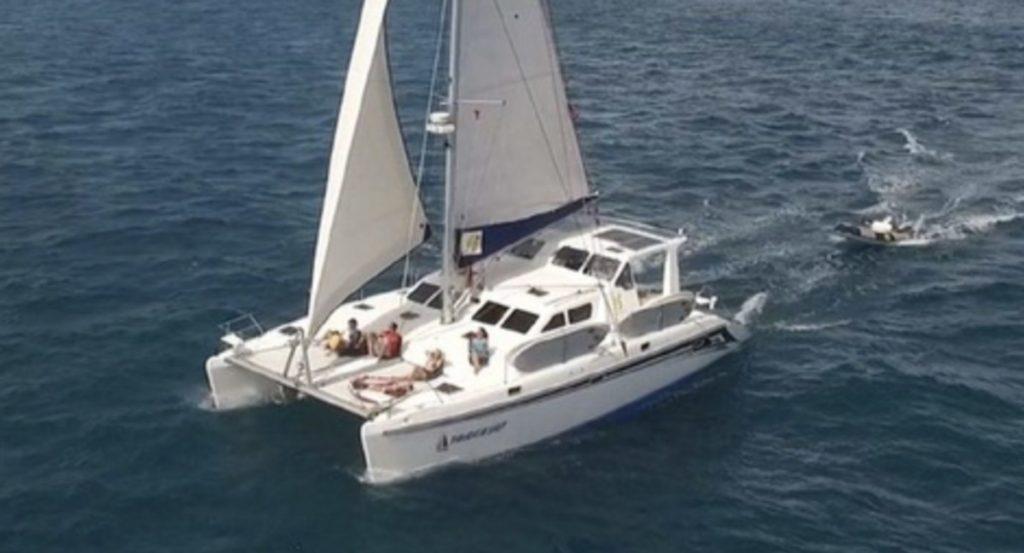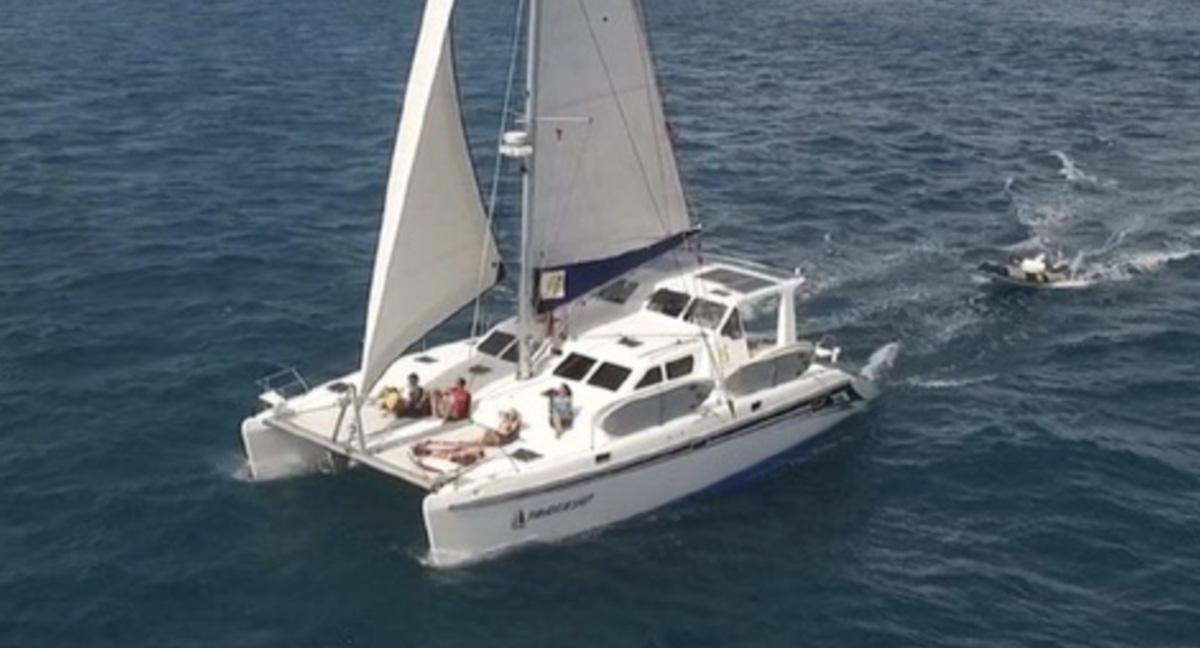 Nicholson Yachts welcomes the 50' charter yacht PARADIGM SHIFT to our fleet. If you're thinking of a crewed charter yacht vacation this summer Paradigm Shift has a lot to offer. The yacht is suitable for a couple, a family or a group of friends.
Amenities onboard
This 50 foot catamaran offers deluxe accommodations for up to 6 guests in 3 cabins. Paradigm Shift is exceedingly spacious. Accordingly, accommodations are roomy. Paradigm Shift offers an en suite queen master forward plus two guest cabins. The large main salon and dining area seats everyone on board with ease.
Catamaran Paradigm Shift comes with all sorts of amenities. Electronics on board include an indoor audio system, iPod dock, television, and movie library. On deck, Paradigm Shift has a swim platform, deck shower, hammocks, and barbecue. Sports equipment includes snorkel gear, kayak, stand-up paddle boards, wake board, towable tube, and light fishing gear. The yacht's underwater camera will let you capture special moments from your charter yacht experience.
What is a yacht charter like on Paradigm Shift?
Paradigm Shift offers luxury charter yacht vacations with a crew of two. Most guests enjoy spending time outside. Kayaking, paddle boarding, swimming, snorkeling, fishing, and riding the towable tube are always available. And of course, there's always sailing! Equally important is the time spent simply relaxing and enjoying the sunshine and fresh sea air.
The yacht's chef prepares meals fresh on board. Due to the chef's training and experience special diets are no problem. All you need to do is ask. The chef and your charter agent at Nicholson Yachts will set up menus in advance. In this way, guests are sure to get the meals they enjoy most. As a result, surprises on board will all be pleasant surprises.
Brief Specifications for Paradigm Shift
Length: 50 Feet
Beam: 26 Feet
Built: 2021
Builder: St. Francis
Refit: 2014
Guest cabins: 3
Guests: 2
Crew: 2
Call Nicholson Yachts at 401-849-0344 for complete specifications of the 50' Catamaran Paradigm Shift. Nicholson Yachts also has the most current charter calendar with available dates for summer 2021.
Where does Paradigm Shift charter?
As a general rule, Paradigm Shift offers winter yacht charters in the Caribbean and the Bahamas. Summer charters typically include the U.S. East Coast and New England.
How to book a summer yacht charter
Call Nicholson Yachts at 401-849-0344 to book your luxury yacht charter. We will have the most up to date charter calendar. Even if you are only in the general planning stage, give us a call. The summer season is short. Accordingly, available dates fill up fast. Therefore you won't want to miss your chance for a great summer holiday. Our charter agents are happy to assist you.
In spite of limited dates, there is the good news. If the 50' Catamaran Paradigm Shift isn't available, then you can choose from other luxury yachts in the Nicholson Yachts charter fleet. In fact, Nicholson Yachts charters the entire world. As a result, we can identify a variety of yachts and itineraries for you to choose from. Whether you prefer a luxury motor yacht, super yacht or sailboat, Nicholson Yachts has options.
Please give us a call at 401-849-0344 to plan your luxury yacht charter vacation. Itineraries are available worldwide and summer private yacht charters are now being booked. This year's popular choices include New England, the Mediterranean, Alaska, and the Great Lakes.
Be sure to sign up for the Nicholson Yachts weekly newsletter. (The link is at the bottom of this page.) You will receive updates on catamaran Paradigm Shift, 2021 summer destinations, and our charter yacht fleet. Keep in touch. Summer is just around the corner.
More charter fleet news from Nicholson Yachts
80′ Trumpy yacht charters on BB on Intracoastal Waterway Spring 2021
Catamaran GENESIS offers 10% discount through May 2021
75′ MATAU chartering the Caribbean in 2021
New England yacht charters on 111′ AURELIUS Summer 2021
97′ SOVEREIGN New England yacht charters Summer 2021
72′ SKYLARK booking charters beginning May 1, 2021
New England charters on 60′ catamaran CYGNUS CYGNUS

Post updated May 5, 2021
#catamaran #sailing #yachtlife #summer #travel #newengland #newport #nicholsonyachts