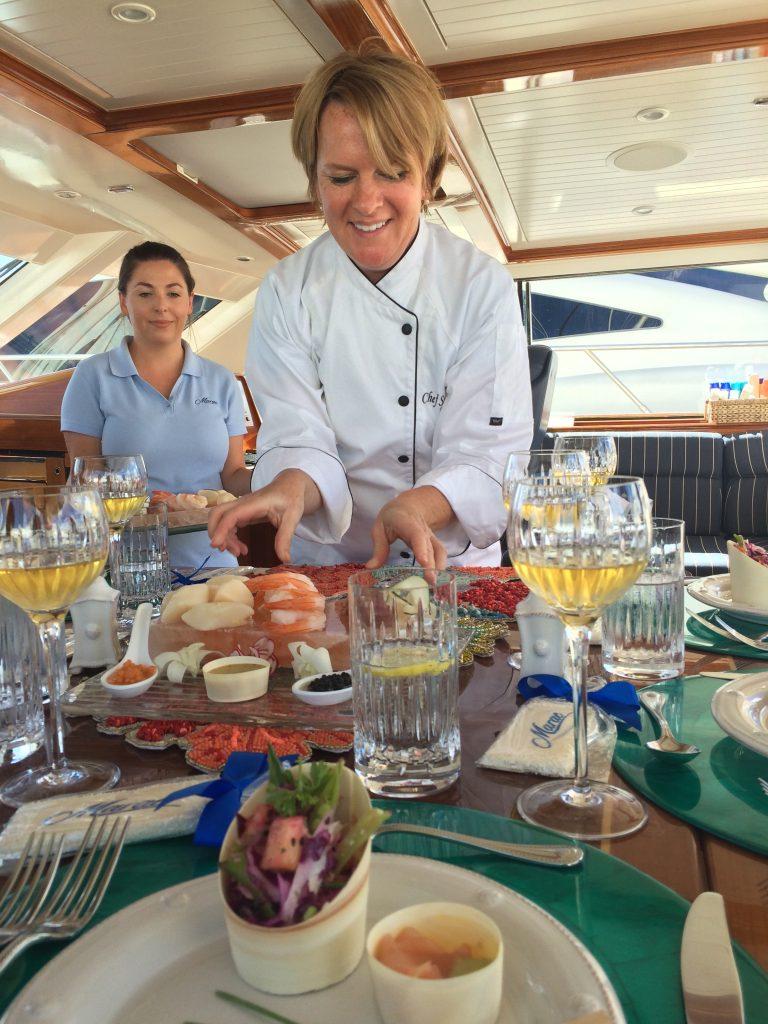 Meals and menus are an essential aspect of a yacht charter vacation. The professional yacht chef plans and prepares the food served onboard. Meals are a highlight of the yacht charter experience. Here's what you can expect when it comes to food on board a yacht charter.
What are meals and menus like?
Wake up and smell coffee and fresh croissants served on deck on a tropical morning. How about a picnic on shore with fresh local fruits, vegetables and fresh-grilled seafood? After an active day, perhaps you'd like an elegant dinner in air-conditioned comfort in the yacht's dining salon. All of these meal and menu options — and more — are yours on a private yacht charter
Meals and menus are as varied as the destinations. A private yacht charter is a completely custom experience. Accordingly, the food on board is tailored to your tastes and dietary requirements. Due to the experience of the professional yacht chef everyone in your party will enjoy a variety of meals and menus.
What training does a yacht chef have?
The training for the yacht chef is similar to that of professional personal chefs. They usually hold special certificates from well-regarded cooking schools. Some hold degrees from culinary schools. Many have unique specialities. All are passionate about what they do.
What kind of food is served on board?
Matching your desires with the right yacht charter experience is the job of the yacht charter agent. If you're thinking of a yacht charter, contact the charter professionals at Nicholson Yachts. In order to get the right match for you, we will work with you to identify your criteria. With this in mind, we'll research the best yachts to meet your needs. Finally, we'll suggest a number of choices for your consideration. Together we'll choose the right charter yacht experience for you.
Does the yacht chef plan meals and menus ahead of time?
Yes. Your Nicholson Yachts charter agent from will brief the yacht chef on your wishes. The yacht chef will provide sample meals and menus for your review. That way you will know that all the food on board will be to your liking.
Is a yacht charter okay if I have allergies?
No worries. Just speak with Nicholson Yachts before booking your charter. Because allergies are so common, the yacht chefs have a lot of experience designing meals and menus for just this situation. Food on board does not need to be a challenge.
Will meals and menus match my diet?
Of course. Yacht chefs are able to work within the framework of almost any eating pattern. Whether it's vegetarian, vegan, keto, low fat, raw food, Whole 30, Atkins or other dietary choice, we can find the right yacht charter for you. Meals and menus are an important part of your life at home and on vacation.
Food on board is just the beginning
While dining on board is of special interest to every charter guest, a private yacht charter offers much more. Visit the Nicholson Yachts YouTube playlist for more yachting lifestyle FAQs.
Here are more FAQs from our blog:
Will the kids get bored on board? Activities available on a family yacht vacation.
Will I get seasick? A professional charter captain puts you at ease.
Call or email the professional charter yacht agents at Nicholson Yachts to learn more. In the meantime, take a look at the destinations and charter yachts we offer. Nicholson Yachts offers a world of choices.