Elaine Lembo's Charter Briefing
Looking for a different type of sailing? Look no further than ANAHITA and THE DOVE.
Comfort, speed, class — that's what you're in for aboard ANAHITA, a 62-foot Dynamique that accommodates six guests and two crew. Fully air conditioned and beautifully appointed below deck, expertly designed for performance on deck, this luxurious sailing yacht transports you to an experience beyond sailing.
Each of three guest cabins has an ensuite head; choose from one with double bunk, queen bunk, or upper/lower single berths. Crew have access to their own quarters via a separate companionway. Amenities include full television and audio entertainment systems, kayak, water skis, snorkeling and fishing gear, and hammocks. The chef can accommodate special diets.
In spring 2019, S/Y ANAHITA offers passage legs from St. Thomas, in the U.S. Virgin Islands, with stops in Gibraltar, the Balaeric Islands, and Sardinia, before reaching its final destination in Dubrovnik, Croatia.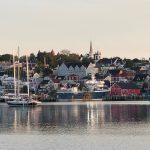 Want to head north to the high latitudes instead?
Then the summer passage to Labrador and Greenland aboard THE DOVE is for you.
THE DOVE is a 54-foot ocean going cutter designed by William I.B. Crealock and built for Captain Larry Tyler. Her teak interior is accented by art and curios from Larry's voyaging. Two spacious, air-conditioned guest cabins each have queen-sized bunks and ensuite head with high-quality Italian fittings and sumptuous linens. THE DOVE is excellent for two couples or a family of five or six. Other amenities include electronic entertainment systems, kayaks, paddleboards, water skis, deck shower, snorkeling and fishing gear, diving equipment, underwater still and video cameras. Special diets can be accommodated.
Captain Tyler will take two paying adventure-loving crew who can commit to at least a month aboard.
The itinerary:
Depart from St Maarten for Bermuda mid May 2019
Passage to Nova Scotia, Newfoundland, Labrador and on to Greenland for the month of July, return early August along the coast of Labrador through the straits of Belle Île to Nova Scotia and Maine.
The distance to Greenland from Labrador is about 600 miles, so with a good weather window it's about a four-day passage, according to Tyler.
For rates and details contact Nicholson Yachts ([email protected]).