Tops in Beauty, Performance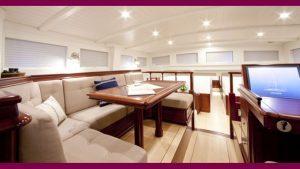 The most gorgeous yacht in any harbor – that's AURELIUS 111, the Dijkstra-designed cutter-rigged sloop.
Built in Holland in 2011, AURELIUS 111 is characterized by style, sailing performance, and luxurious comfort, while she also delivers an exciting and pleasant sailing experience. From the water, you can appreciate her tall mast, graceful sheer and overhangs, uncluttered teak deck, glistening varnish and chrome. Below deck, take in the fine wood craftsmanship, including subtle Honduran mahogany, beautiful cream wood paneling, and lovely chestnut flooring.
Her design exudes elegance and style, while modern materials and technology provide competitive sailing performance without sacrificing comfort or ease of handling.
While the owner chose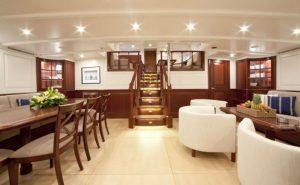 AURELIUS 111 for all those qualities, she was also chosen for charter because of her spaciousness on deck and below, and the privacy this affords families and guests.
Featuring a well-known crew with excellent references
AURELIUS 111 is pleased to announce its new crew — familiar faces to Nicholson charter clients. Captain Nicolas Chauvet and chef Lia Hosein, who won top references as longtime crew of the Swan 77 LA FORZA DEL DESTINO, are onboard and ready to greet brokers at the Antigua Charter Yacht Show 4 – 9 December 2019. Nicolas and Lia and AURELIUS 111  will spend winter in the Caribbean and summer in New England. The yacht has also spent summers in the Mediterranean, cruising grounds the crew is well familiar with.
Weekly rates for 2019-2020 are $57,500 for six plus all expenses; holiday rates from 20 Dec 2019 – 4 January 2020 are $63,250 USD a week for six plus all expenses. Holiday charters require a 10-day to two-week minimum term. Contact Nicholson Yachts for details ([email protected]).