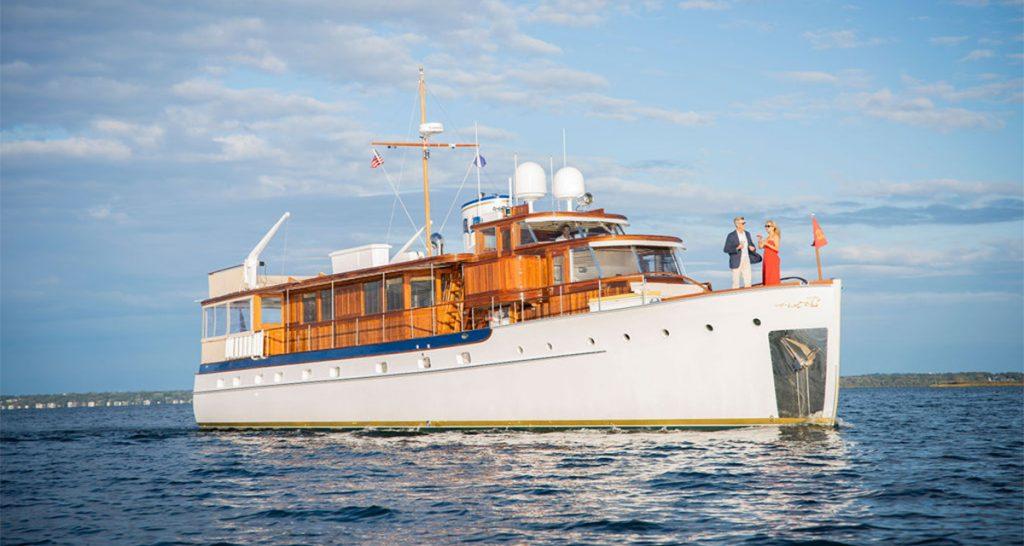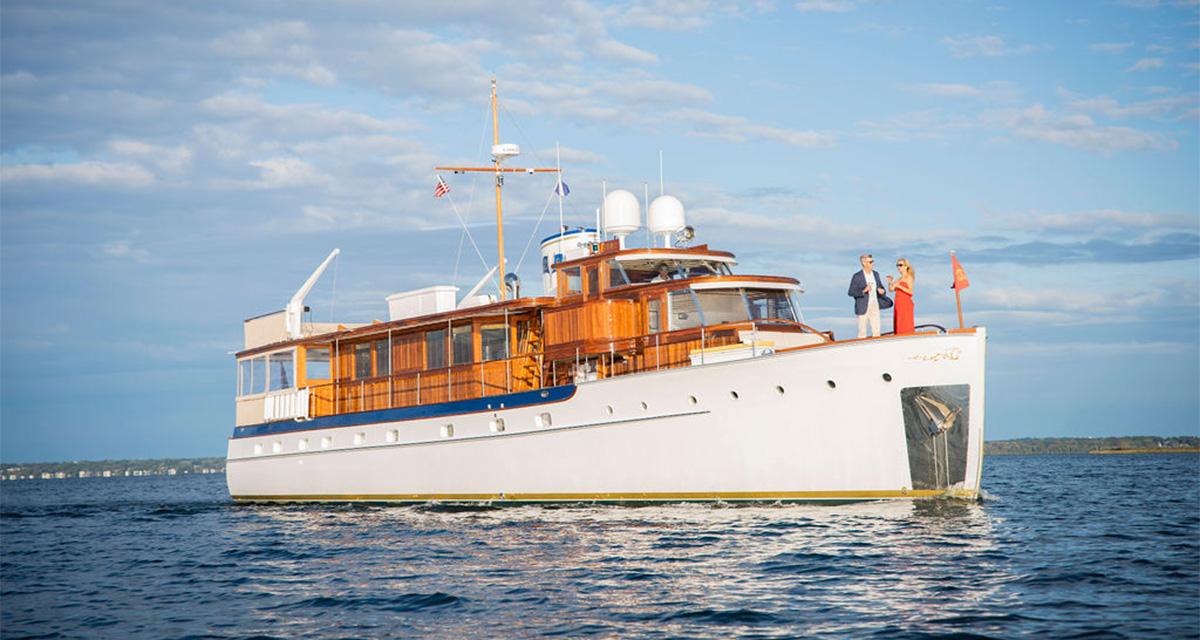 Cruise the Atlantic Intracoastal Waterway in style. A recent restoration updates this 80' Trumpy motor yacht. Built in 1947, her $4 million restoration, refit and update took 3 years to complete. Every detail shines, sparkles, and gleams. The sumptuous interior is as glamorous as the original. Thoughtful modern upgrades – such as stabilizers, climate control, sound system and televisions – are unobtrusive and contribute to guest comfort. Onboard BB you can take a step back in time. Here you will enjoy classic opulence complemented by modern amenities.
A CLASSIC YACHT EXPERIENCE
When people think of a classic motor yacht probably the Trumpy is what they visualize. These yachts are the icon of American luxury yachting in the 20th Century. About 400 Trumpy yachts were built in the U.S. from the 1920s through the 1970s. USA Today ran a feature article on Trumpy entitled "Dreamboats". "BB" provides an authentic luxury yacht charter experience. On board BB guests will share the thrill of past Trumpy yacht owners. Howard Hughes, the Guggenheims, the Duponts, the Chrysler family and the Dodge family all owned Trumpys. Arguably the most famous Trumpy of all is the 104' USS Sequoia, the Presidential Yacht of the United States. USS Sequoia served U.S. presidents from 1929–1977. She is now a National Historic Landmark.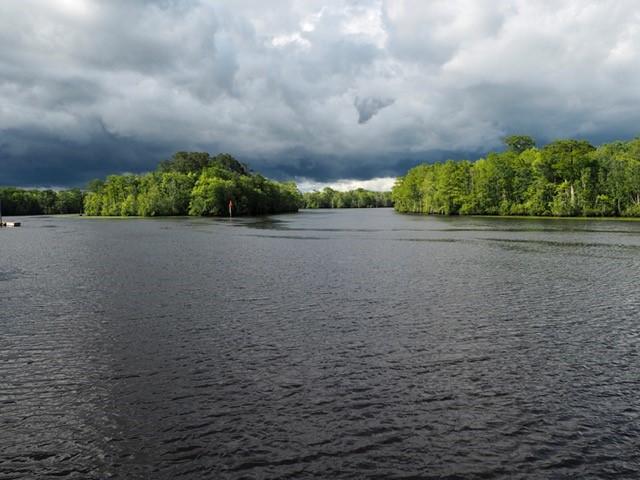 Intracoastal Waterway cruise itineraries available in Fall 2021, Spring 2022.
INTRACOASTAL WATERWAY CRUISE ITINERARIES
80' Trumpy BB will be making a leisurely cruise from New England to Florida in the fall of 2021. Private yacht charters are available for up to 7 guests. The Atlantic Intracoastal Waterway is over 1,200 miles long. Due to its length, a variety of itineraries are available. Running from Norfolk, VA to Miami, FL there are many options for embarkation. Charters are offered in week-long segments.
Before entering the ICW in Norfolk, VA BB will be cruising the amazing Chesapeake Bay with options including Annapolis, St. Michaels, Oxford, Solomon's Island, and many more gorgeous and historical locations.
BB will cruise through Virginia, North Carolina, South Carolina, Georgia, and Florida. She will stop along the way where guests may step ashore and explore.
Norfolk, VA is Mile Marker 0 of the ICW. After clearing the Great Bridge Locks (the only locks on the entire) trip the boat will enter the wild and beautiful world of the North Carolina sounds where it is not uncommon to spot bald eagles. Shrimpers and crabbers abound. Towns of interest include Bel Haven and Elizabeth City. Beaufort, NC just inside Cape Lookout is a must stop. Many more great spots (Wrightsville Beach, Southport, Baldhead Island) are found on this coast with it remarkable scenery.
South of Myrtle Beach in South Carolina the true Low Country begins with twisting passages through miles of superb marshlands and rivers, leaving the shrimping centers Georgetown and McClellanville behind for the sophisticated and historic charm of Charleston.
A day's leisurely cruise South of Charleston you'll find another Beaufort (pronounced differently) with a collection of some of the best preserved antebellum homes one is ever likely to see. And Beaufort is followed by the golfer's paradise, Hilton Head, so don't forget your clubs!
Georgia now beckons with Savannah, Isle of Hope, and the Golden Isles of St. Simons, Cumberland and Jekyll.
In North Florida historic Fernandina Beach and St. Augustine top the list followed by the Space Coast (I have seen three rocket launches from the docks in Titusville) with great small towns like Cocoa and Melbourne.
As South Florida approaches Palm Beach is another must see and the route between there Ft. Lauderdale, and Miami is never, never boring with incredible and, sometimes, over the top real estate along the way. From the water the Miami skyline is a sight to see.
If you are interested in a Trumpy yacht charter, then contact our charter experts. We can help you plan an itinerary that suits you. Call us a call or drop an email for prompt, personal service. We know the yacht and crew and can answer any questions you may have.
BRIEF SPECIFICATIONS FOR "BB"
Builder: Trumpy
Launched: 1947
Refit complete: 2020
Length: 80'
Beam: 18'
Guests: 7
Cabins: 3
Crew: 3
More details and photos of 80′ Trumpy BB are available from Nicholson Yachts. Trumpy yacht charter vacations are available now. However, bookings are limited. Contact Nicholson Yachts to cruise the Intracoastal Waterway in style.

Nicholson Yachts
109 Long Wharf
Newport RI 02840
USA
Tel: 401-849-0344 Fax: 401-849-9018

[email protected]
www.nicholsonyachts.com