Explore Greece aboard AMANDA
The beauty, mythology and traditional ways of Greece have bewitched sailors for ages. So why not make a plan to explore there via the emerald seas for yourself?
AMANDA will make it happen for you.
She's a classic wooden motor yacht homeported in Piraeus, southwest of the center of Athens, Greece. Built in 1956 in the U.K., she was refitted in 2017 to her original layout. Further refit work was performed in 2018. AMANDA is a shining example of a lovingly restored traditional craft.
A 24-meter (78 foot) cruiser powered by two diesel Rolls Royce engines capable of 10-12miles/hour, she accommodates up to 12 people in five cabins. The yacht runs with captain and crew of three marine professionals who are devoted to AMANDA, speak English, and are eager to share the experience with guests.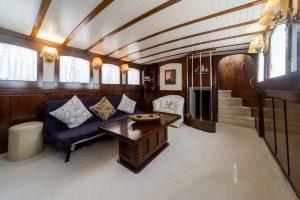 AMANDA, with excellent displacement and a narrow beam, performs smoothly even in large seas. The interior design is comfortable yet not overly formal; there's a small lounge off the guest cabins and the overall area below the main deck is private and beautifully maintained. The cabins and heads are attractive and comfortable. The aft deck space is roomy and leaves plenty of area for guests to move around. A special feature is the forward dining area with bar and lounge. This special accommodation – the lounge area — is where AMANDA's guests love to congregate. There's plenty of room for large groups.
Everybody knows the beauty of sailing on a classic wooden yacht. Beyond the beauty of the classic yacht, there is another beauty named classic Greece, full of islands and crystal blue waters under a thousand shades of the Aegean Sea. AMANDA and crew are pleased to offer seven and 10-day itineraries to Greece's most beloved island groups, the Cyclades, Ionian, Saronics and Sporades among them. Partial week and custom itineraries are also available.
Enjoy morning swims and panoramic backdrop views while dining al fresco. Ashore, walk village streets, visit ancient monuments, local museums, open air theaters. Take in the night life of the islands with a drink after dinner before you return to the yacht for a tranquil night of rest.
AMANDA charters for 22,000 euros weekly. Rates are inclusive of food and non-alcoholic beverages; exclusive of alcohol; 12% Greek VAT; delivery (if applicable); communications; dockage; fuel. For charters less than 3 days, VAT is 24%.
For details contact Nicholson Yachts ([email protected]).