Win a Three-Day Charter starting in Antigua
A Love Story that Launched a Dynasty
She was a beautiful, stately Radcliffe graduate. He was a dapper yet scrappy British skipper whose family washed ashore in Antigua a few years earlier.
When Lisa Dodd of Connecticut met Desmond Nicholson on charter with the Nicholson family's fledgling fleet, it was the start of something beautiful. And successful.
"There I was, a young girl, splashing around in the waves," Lisa recalls. "Little did I know what was happening."
She wasn't alone. No one – not Commander V.E.B. Nicholson, son Rodney or his wife, Julie, nor son Desmond or Lisa realized at the time that they were singlehandedly creating a new industry, one of historic and economic proportions for Antigua and far beyond.
The Caribbean island nation's success story — its self-sustaining economy, its prominence as an international yachting hub, its status as host to a UNESCO World Heritage site, Nelson's Dockyard — reaches back to the landfall of the Nicholson family and their 70-foot schooner Mollihawk.
Through it all, romance ignited the passion for yachting, and yachting set the stage for romantic love.
Tell us how sailing and yachting set the stage for your own love story. To the best story Nicholson Yachts will grant its author and a guest a free three-day charter departing from – where else but – Antigua.*
Email your submission to [email protected] Submission deadline is November 1, 2019. We'll post and share the best stories we receive, too, so include photos!
Read the full story — with historic photos and new images by Billy Black — about how the Nicholson family transformed Antigua while it launched the crewed charter yacht dynasty. Send us an email and we'll supply you the links and pdfs. Email us at [email protected]
*restrictions apply; excludes flights, hotels, land transfers, alcoholic beverages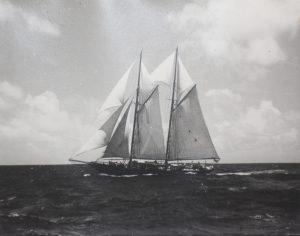 Nicholson: Sailing Experts since 1949