Teamwork! Teamwork! Teamwork!
People are always looking for ways to connect with each other. Have you ever considered the advantages of connecting with friends and co workers while racing aboard a sailboat in a regatta?
It's a hands-on experience that's memorable for all the right reasons: sun, fun, focus, and a dose of sweat.
Any great racing trophy, plus the celebrating that goes with it, isn't achieved without teamwork.
Here's how writer and racer Martha Blanchfield recorded her experience aboard Nicholson fleet member EROS, the 115-foot schooner that's a regular stunner on the racing circuit in the Caribbean and  New England:
Racing Eros
"Classic yacht racing aboard a vessel of EROS's size is a magnificent experience. In the New England area, there are lots of classic yacht events, but very few classic yachts with the capacity to welcome aboard large groups of charter guests craving hands-on regatta action. EROS, courtesy of her sheer size and design, easily accommodates and fascinates a full complement of zealots, from shellbacks to novice sailors. Take it from me, you don't want to miss this experience."
If you want to experience the magnificence of racing aboard EROS in 2019, opportunities abound in the Caribbean and in New England.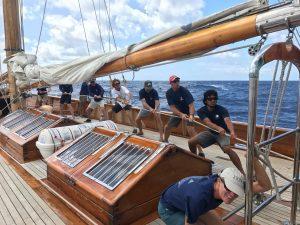 2019 Classic Regatta Schedule
St. Barth's Bucket
March – March 21 – 24, 2019 https://www.bucketregatta.com
Antigua Classic Yacht Regatta
Antigua April 17 – 23, 2019. http://www.antiguaclassics.com
New York Yacht Club Annual Regatta
Newport, RI. June 14 – 16, 2019 www.nyyc.org
Vineyard Cup
Vineyard Haven, MA., July 12 – 15, 2019 www.sailmv.org
New York Yacht Club 175th Anniversary Regatta, Newport, RI, July 14 – 20, 2019 www.nyyc.org
Camden Classic Cup
Camden, ME., July 25 – 27, 2019 www.camdenclassicscup.com
Castine to Camden Feeder Race
Castine, ME., August 1, 2019 www.camdenyachtclub.org
Camden to Brooklin Feeder Race
Camden, ME., August 2, 2019 www.camdenyachtclub.org
Eggemoggin Reach Regatta
Brooklin, ME., August 3, 2019 www.erregatta.com
Corinthian Classic Yacht Regatta
Marblehead, MA., August 10 – 11, 2019 www.corinthianclassic.org
Nantucket Race Week (Sail Nantucket)
Nantucket, MA., August 16 – 17, 2019 www.nantucketraceweek.org
Opera House Cup
Nantucket, MA., August 18, 2019 www.operahousecup.org
Herreshoff Classic Yacht Regatta
Bristol, RI., August 24 – 25, 2019 www.herreshoff.org
Newport Classic Yacht Regatta Presented by IYRS
Newport, RI., August 31 – Sept. 1, 2019 www.iyrs.edu
Greenport Classic Yacht Regatta & Maritime Festival
Greenport, NY., Sept. 20-22, 2019 www.sailgreenport.org
Heritage Cup Regatta & Rendezvous
Glen Cove, NY. . www.hempsteadharbourclub.com
Great Chesapeake Bay Schooner Race
Baltimore, MD. www.gcbsr.org