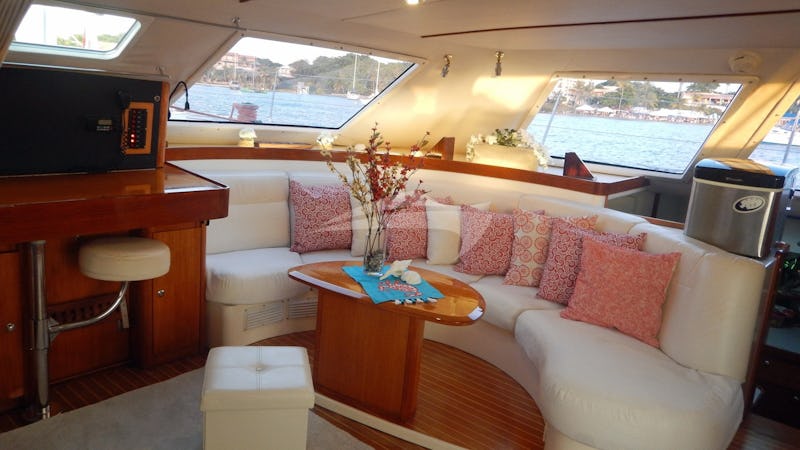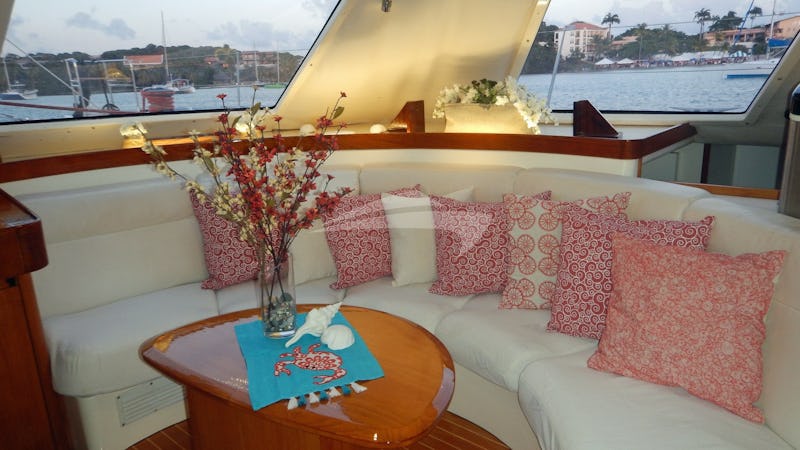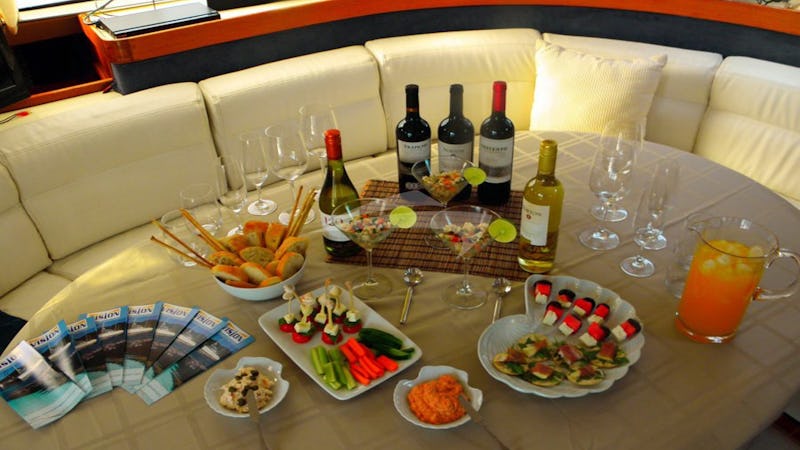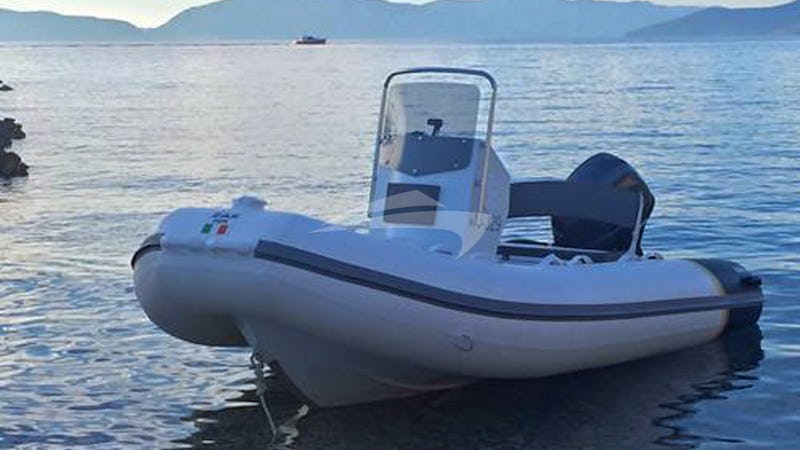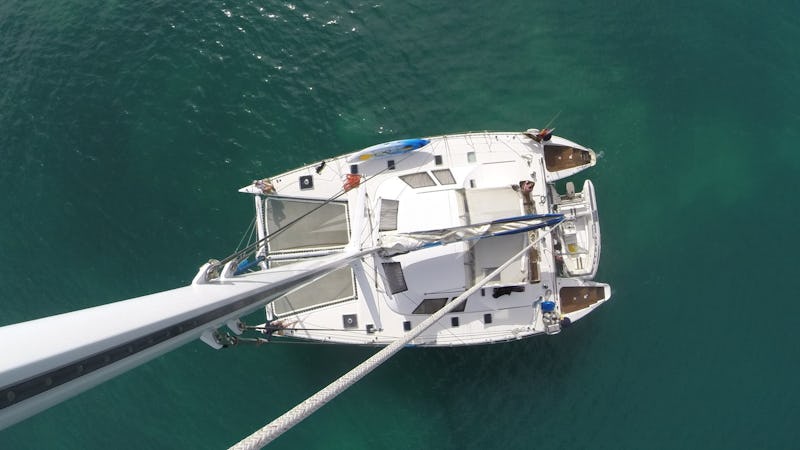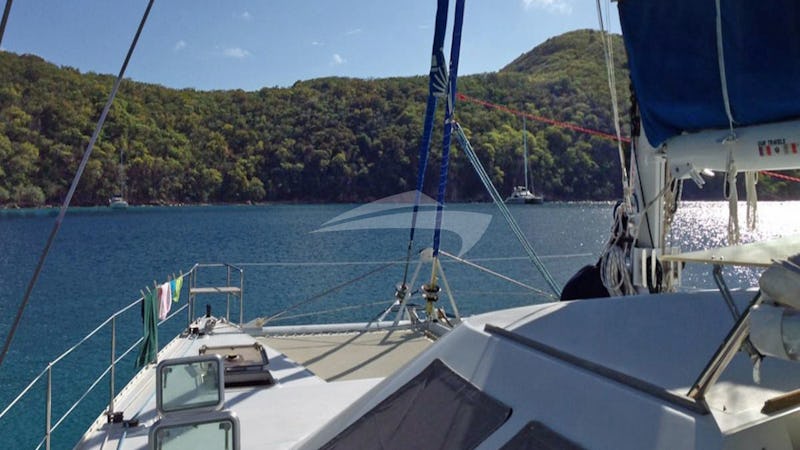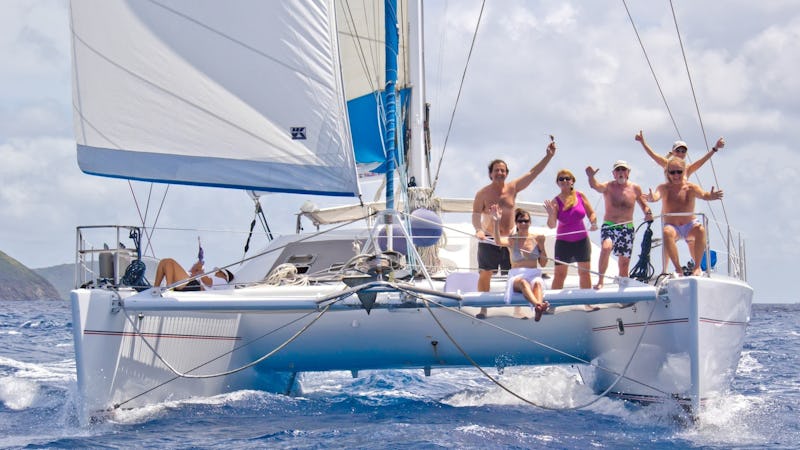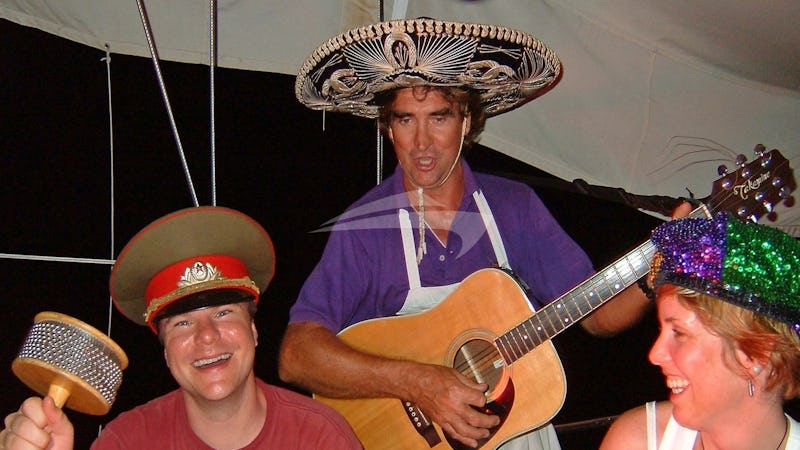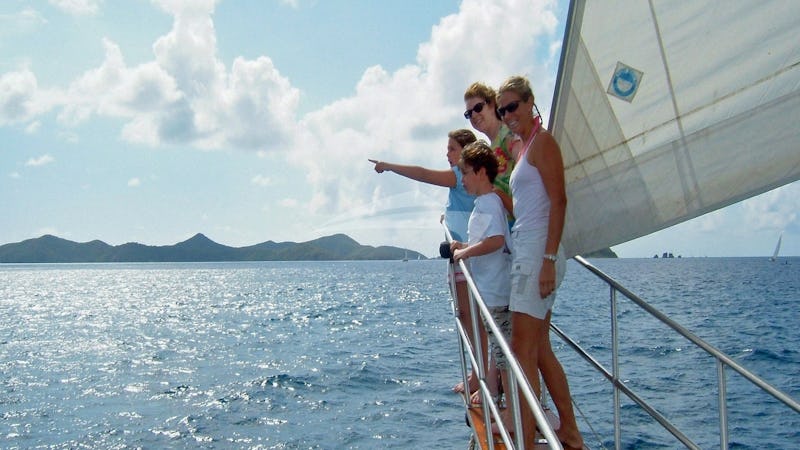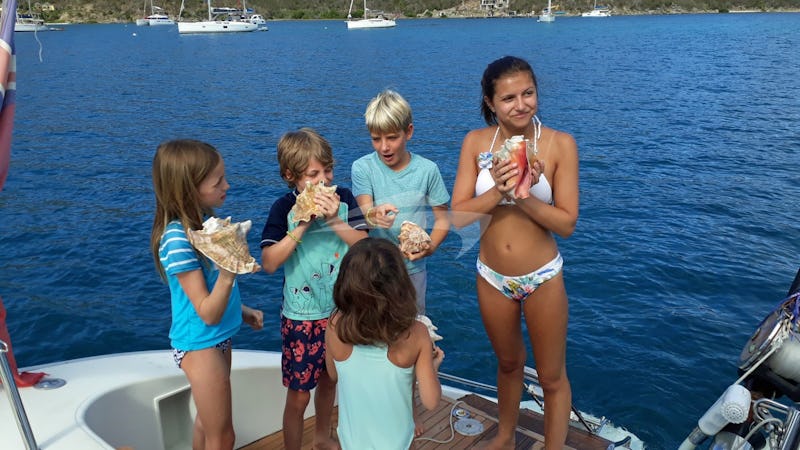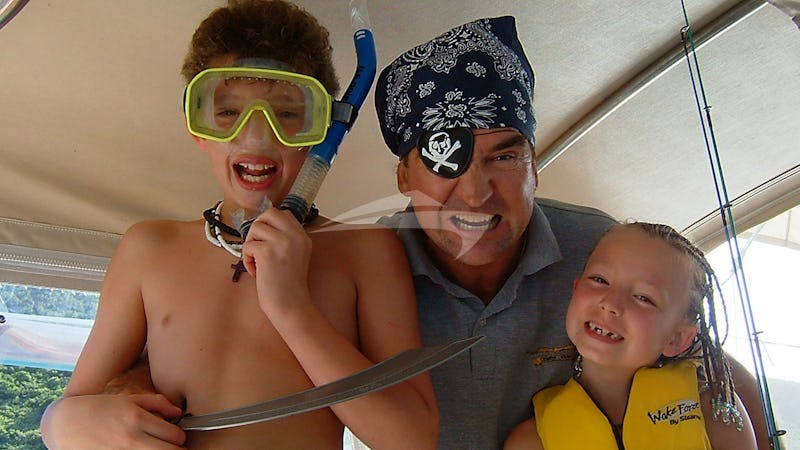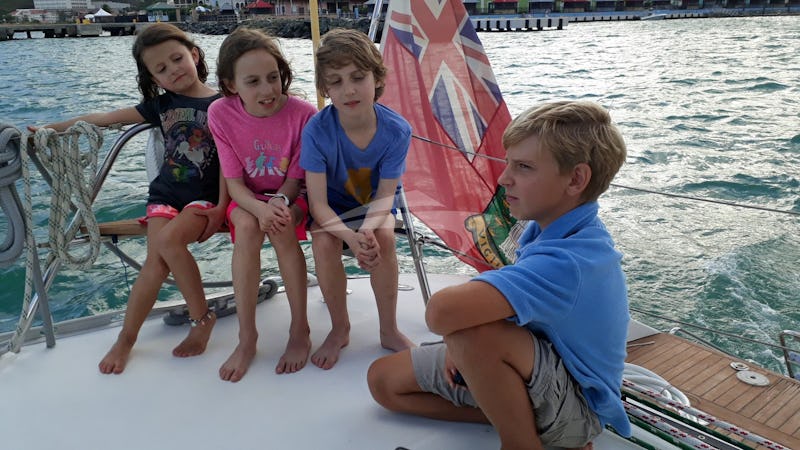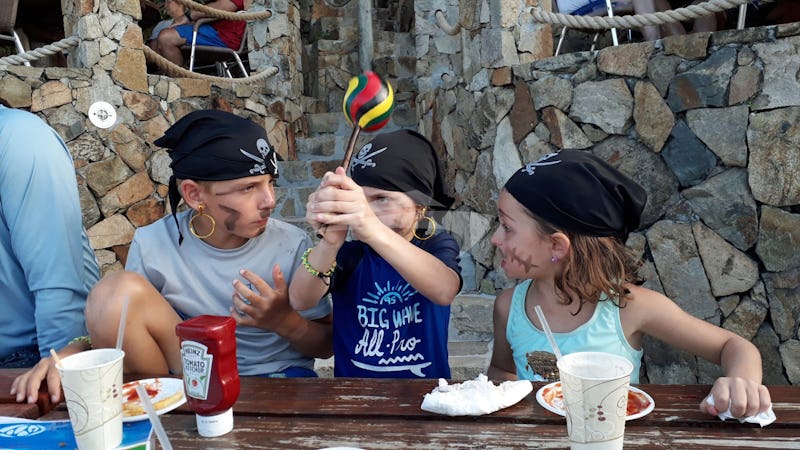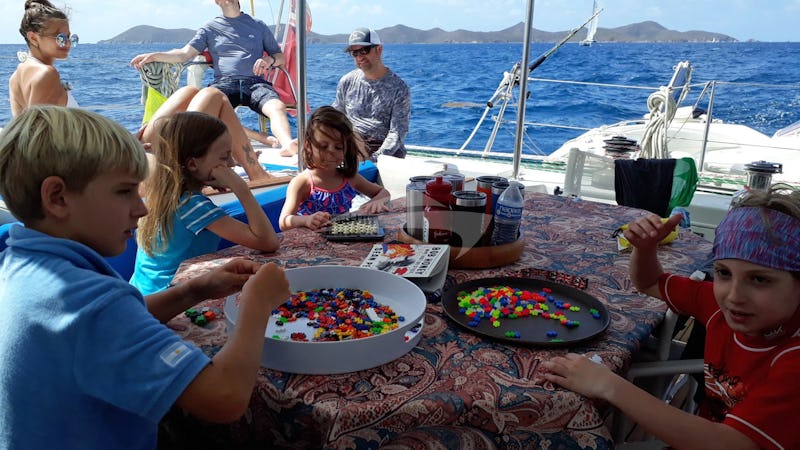 57 ft / 17.4 m
│
2 CREW
│
FROM $14,790
│
8 GUESTS
57ft (17.4m)

29ft 10in (9.1m)

4ft 7in (1.4m)

1995

Lagoon

Lagoon

8

Captain Charly Zahr

2017

7kts (13kph)

None

Virgin Islands (British)

2 Yanmar

No

No
Note: Rates are based on double occupancy of cabins, i.e. 6 pax in 3 cabins. 
For charters 6 pax or less, extra charge applies for use of additional cabin(s).
Queen-Stern Starboard, with en-suite, Electric toilet, separate shower, AC and fans.
Queen-Stern Port, with en-suite, Electric toilet, separate shower, AC and fans.
Queen-Aft Forward, with en-suite, Electric toilet, separate shower, AC and fans.
Twin - 2 singles (upper and lower)-Midship Port, with en-suite, Electric toilet, separate shower, AC and fans.
Cabin height: 1.91m. almost 6' 4''
Bed length: 1.91m.    
Bunk Beds: 6'4"
Master: 6'8"
Double: 6'8"
The cockpit cool drinks refrigerator is available for guest convenience.
USB charger for phones & iPads in each cabin.

Captain: Charly Zahr (65)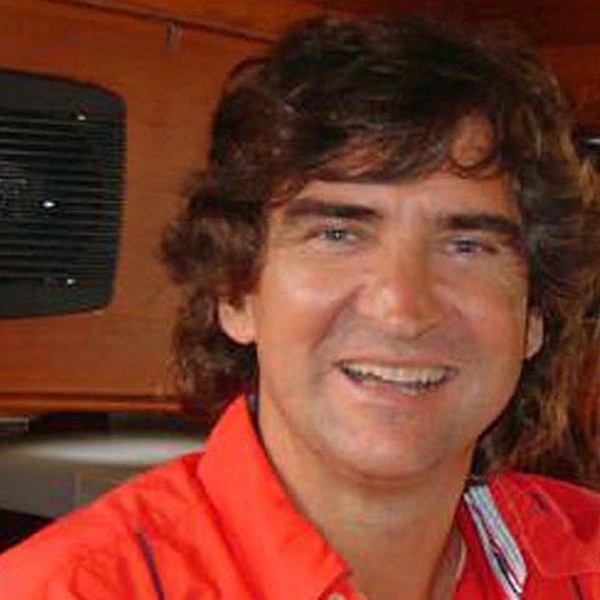 CAPTAIN/CHEF CHARLY ZAHR
Charly grew up just outside of glamorous, vibrant, Buenos Aires, Argentina. His culture of music, playing the guitar, great food, fine wine and entertaining friends, are part of what makes his charter style so special.
In his early 20s, Charly completed his studies in Industrial Engineering at the University of Buenos Aires. He left the dazzle of the capital and a successful career as a musician/singer with his band, "Charly Zahr & Co." He moved to Rio de la Plata, where once he gripped a yacht helm he did not want to let go. He said, "A good friend introduced me to this passion for yachting. It was as if I'd been born for this life, a dream come true! I came to the Virgin Islands on a charter yacht. Right after I arrived I met Carolina. I had found my perfect partner." That was some 20 years ago. They have been sailing together ever since.
Captain Charly is an expert seaman and extremely knowledgeable about sailing throughout the Caribbean. He says it's his favorite yachting destination. "Peaceful, crystal clear waters, steady breezes all year around, perfect temperatures and amazing fresh vegetables and fish! And the most wonderful, local people to spend time with. Charter guests aboard VISION experience all this and more. Because, although Charly commands the ship, he also has many stories to tell and songs to sing. All you need do is ask him.
CAPITÁN / CHEF CHARLY ZAHR
Charly creció a las afueras de la glamorosa y vibrante Buenos Aires, Argentina. Su cultura de la música, tocar la guitarra, buena comida, buen vino y entretener a sus amigos, son parte de lo que hace que su estilo de charter sea tan especial.
En sus 20 años, Charly completó sus estudios en Ingeniería Industrial en la Universidad de Buenos Aires. Dejó el deslumbramiento de la capital y una exitosa carrera como músico / cantante con su banda, "Charly Zahr & Co." Se trasladó a Río de la Plata, donde una vez que se apoderó de un timón de yate no quería dejarlo ir. Él dijo: "Un buen amigo me presentó a esta pasión por la navegación. Fue como si hubiera nacido para esta vida, ¡un sueño hecho realidad! Llegué a las Islas Vírgenes en un yate de alquiler. Justo después de llegar, me encontré Carolina. Había encontrado a mi pareja perfecta. "Eso fue hace unos 20 años. Han estado navegando juntos desde entonces.
El capitán Charly es un marinero experto y conoce mucho sobre la navegación por el Caribe. Él dice que es su destino de yate favorito. "Aguas tranquilas y cristalinas, brisas constantes durante todo el año, temperaturas perfectas e increíbles verduras frescas y pescado! Y las personas más maravillosas y locales con quienes pasar el tiempo. Los huéspedes de charter a bordo de VISION experimentan todo esto y más. Porque, aunque Charly comanda el barco, también tiene muchas historias que contar y canciones para cantar. Todo lo que necesitas hacer es preguntarle.
Chef & Mate: Carolina Rodriguez Soaje (44)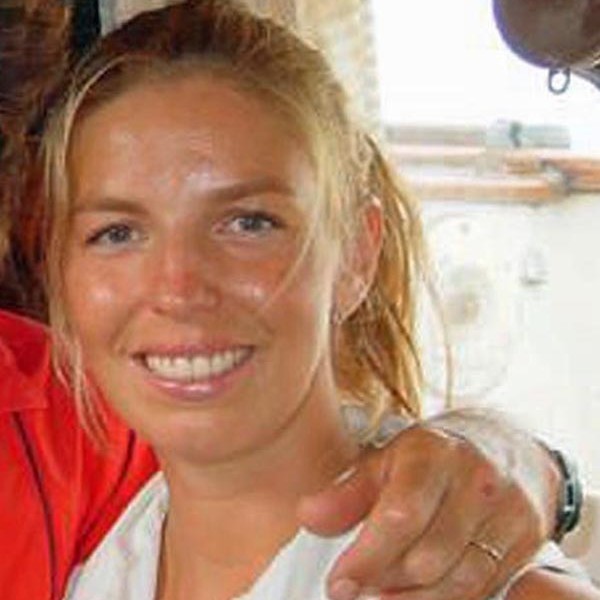 CHEF/MATE CAROLINA RODREQUEZ SOAJE
Caro and two younger siblings grew up in the beautiful bustle of Buenos Aires. During the summer, the family traded city life for country life on their ranch. Caro rode horses through a pastoral landscape, enjoying the animals and the beauty of nature. She was always surrounded by many friends, so it was little surprise when she pursued a degree in Public Relations at Universidad Argentina John F. Kennedy. However, when she fell in love, plans changed.
Caro met Charly, and together they launched a career in yachting. The two became licensed captains in Argentina and sailed the world's oceans. Caro continued taking courses to further her career as a yacht chef, including pastries and breads and sommelier. She had an exciting position as chef/hostess on a Farr 80', exploring most of the European and Turkish coasts. She also worked on yachts as pastry chef and first mate. Since 1999, she has owned a 62' classic yacht, operating long term and day charters throughout the Caribbean.
Caro excels at preparing Argentinian dishes from recipes handed down through generations, like homemade Chimichurri. She also has a repertoire of European dishes. Her pastries and breads are irresistible. She says, "Guests rave most about my 70% cocoa chocolate mousse, and my dulce de leche mousse, with ingredients we bring from Argentina!" Guests aboard VISION not only eat well, they are pampered. Caro is trained in Silver Service and knows how to be discreet for those guests that value privacy. However, she prefers an interactive charter. She says, "I try to show the beauty of this lifestyle to our guests and make their stay a truly amazing life experience!" Step aboard to encounter an unforgettable VISION!
CHEF / MATE CAROLINA RODREQUEZ SOAJE
Caro y dos hermanos menores crecieron en el hermoso bullicio de Buenos Aires. Durante el verano, la familia cambió la vida de la ciudad por la vida en el campo en su rancho. Caro montó caballos a través de un paisaje pastoral, disfrutando de los animales y la belleza de la naturaleza. Ella siempre estuvo rodeada de muchos amigos, así que no fue una sorpresa cuando obtuvo un título en Relaciones Públicas en la Universidad Argentina John F. Kennedy. Sin embargo, cuando ella se enamoró, los planes cambiaron.
Caro conoció a Charly, y juntos lanzaron una carrera en yates. Los dos se convirtieron en capitanes con licencia en Argentina y navegaron los océanos del mundo. Caro continuó tomando cursos para continuar su carrera como chef de yates, incluyendo pasteles, panes y sumiller. Ella tenía una posición emocionante como chef / anfitriona en un Farr 80 ', explorando la mayoría de las costas europeas y turcas. Ella también trabajó en yates como pastelero y primer oficial. Desde 1999, ha sido propietaria de un yate clásico de 62 pies, operando charters a largo plazo y por todo el Caribe.
Caro se destaca en la preparación de platos argentinos a partir de recetas transmitidas generación en generación.
Deckhand: Valentin
Charly and Carolina have an adorable young son Valentin, who is a great sailor and deckhand. With the exception of the holidays, he will not be on board for charters unless it is a family charter and the guests invite him to join the charter. Vision prefers "family style charters".
February Friends Fun 2019
​"The Visionaries" Charly & Carolina
Thank you so much for everything!
We had the best week being together, eating fabulous food, sharing good conversation and many laughs! The memories will always stay with us!
Sarah
Carolina & Charly
Thank you for a wonderfuk vacation. You are both very kind made our time here memorable. The meals were delicious, not looking forward to having to cook our own dinners again. Also, thank you allowing Neil to help with your sailing.
Thank you all the best
Neil & Felice


Birthday on Board  - February 2019                                                             
My wife surprised me with a boat trip for us and 10 friends and family we sail on the Vision and the Nemo. It was an amazing trip and great way to see the islands and show them to ours friends and family.  Charly and Carolina were great hosts. The food and drinks were perfect.
Thank you for the great memories.
Paul & Katrina

6-13 January, 2019 - Fabulous Food!!                                                                    
Wonderful charter. Great crew. Fabulous food especially prepared for us gluten-free people. Highly recommend Vision.
Caro & Charly,
I have chartered 5 times in the BVI. Our honeymoon was on a BVI Charter.I would rate our trip with you the best ever. The reason I would give you a 5 start is because you were service oriented. You always were there to help us with all our needs and requests.
We are a difficult family due to difficult food allergies. You were able with Carolina to supply our each and every dietary need.
The variance and quality of your food was exceptional. The desserts were the best and so I would highly recommend your charter to my friends and family.
Thanks you for your kindness and caring.
Dr. David S.
Family Fun in British Virgin Islands
How did you enjoy your cruising vacation? It was a great time! Boat was great, Crew was outstanding and attentive, weather was excellent.

How would you describe your Captain and crew? Were they Courteous? Helpful? Friendly? Attentive? Knowledgeable? Top Notch. Carolina and Captain Charlie were helpful and courteous. Definitely made long term friends!

Tell me about your meals? Did the menus meet your expectations? Did your Chef and Crew pay close attention to your Preference Sheets? While I am sure that our strange palates caused some adjustment, the food was excellent and met/exceeded our expectations

How is the yacht? Is she clean and well-maintained? Were your cabins comfortable? Was the cockpit comfortable? Was there enough shade?
The Catamaran was perfect. there was plenty of shade when needed, the cockpit was large and very comfortable, and the Cat was always clean, not sure when they cleaned but miraculously it always was. Cabins were the perfect size – comfortable to serve the purpose and compact enough to encourage being up on top enjoying the crew and scenery

What did you like most about the yacht? What did you like the least?How did you find the pace and the itinerary of your vacation?
Perfect, Captain Charly made suggestions and we were able to direct where we wanted to go and when.

Would you charter this yacht again? If not, please explain: ABSOLUTELY! We have already recommended the Vision and Captain Charly
to at least two different families


28 June - 5 July, 2018 My family will never forget the memories you helped create!!
Dear Charly & Carolina,
Thank you for the fond memories.  We all had a blast.  Would love to come back with my kids someday.  I look forward to getting my recipes!  Thanks!
Thank you for giving us great advise about many things.The food was great and the islands were amazing. 
Thank you so much for showing me such a lovely time and filling me up with lots of good food.  I will definitely be returning and expecting a home cooked meal from Valentine!  Love Lily
Thank you for being amazing hosts and fulfilling every request(no matter how many times).  I appreciate you being so kind and always making us laugh. Thank you for putting so much effort into cooking and making us a slideshow!  I hope I will be back to see you soon.  Ty
Thank you so much for the trip of a lifetime!  I loved getting to visit the islands with my closet friends and family.  The food was amazing!!  I think I gained about 5 pounds on this trip. I cannot wait to come back! Lexi
Thank you for yet another amazing trip through the BVIs.  Excellent food, day trips and sailing.  I couldn't have asked for a better vacation or better captain to sail us through this beautiful place.  I can't forget I got to do it with my best friends too.  Again, thank you for everything!  Abby
Thank you for exceeding my wants on the bucket list vacation.  It was a pleasure spending the week with you and learning about your family. My family will never forget the memories you helped us create.  Wonderful meals and I truly appreciate the way you took care of me and my family.
The "L" Family
28 April - 5th May, 2018 ~ A Lifetime Experience none of us will forget!
Charley and Carolina were AMAZING! They cleaned daily, made every accommodation we requested and were very pleasing to be around for a full week. Everything was fantastic. The cabins were clean, beds were comfy and plenty of common space to hang out with the others. We hit up a different island or beach setting everyday. It was a perfect mix of being on the water and stopping for beach bars. Our group wasn't the most active but we were made aware of everything that was available, which more than suited our needs.
The food and drinks were FIVE STAR! I was continually amazed at how they were able to prepare such quality meals, from scratch and in such a small space. The service was GREAT!

It was a lifetime experience that none of us will ever forget.

The R Family
The R Family guests comment to their broker: Thank you for setting up a great trip.  The trip was amazing & Charlie & Carolina were some of the nicest people I've ever met, please convey that we are all VERY happy and had a great time

31 March - 7th April, 2018 ~ A Very Special Trip!
Carolina & Charly,
Thank you so much for such a wonderful week!  You made our week very special for our family and gave us a beautiful tour of the BVIs. The hospitality, food and activities were very incredible, and we will never forget this week.
Gracias!  We have looked forward to this vacation for months, and our expectations were completely surpassed!  We had a blast…..some of our favorite memories were jumping off the boat, going to the baths, and enjoying an authentic Argentinian barbeque with you guys.  Brandon adored Val's company, and so did the rest of the family.  Val is a gem.  Thank you so much for everything!
Thanks for everything! Great food, amazing hosts and wonderful at navigating the islands.  We enjoyed your company and getting to know you, Carolina and Val.  Very special trip!
Best and all our love; The M Family
March 10-16, 2018 – Best Vacation Ever!
Carolina & Charly
Thank you both for the incredible time! You both were so nice and personable and the food was AMAZING!
I'll remember this week for the rest of my life.
Thank you again!
Cody (New England)
...........................................................................................
Our week was incredible! This was been a trip that has been on my bucket list and now I can check it off!
It was everything and more than I dreamed it would be thank you so much for the awesome time, food, drink and friendship!
Blessings for continued safe travels!!

Karen & Anderson (NM)
P.S Love to Val
.....................................................................................................
Thank you both so much for such a wonderful week. Our entire family made memories that will last forever and thank you for being so patient with the 2 kids, they enjoyed meeting and playing with Val and wished they would have had longer to spend with him.
We hope to see you all again.
Joel

March, 2018 - 10th Anniversary aboard catamaran VISION
Captain Charly, Carolina and Val,
Thank you for the most amazing trip of our life. We will never forget the beautiful view, gracious hospitality, and amazing food. The three of you became our little family on the sea and we loved every single moment. Even with the swells and hurricane damage still around, the trip couldn't have been better.
We will be dreaming of Carolina's desserts and "Pair Killers" and Charly's food and boat rules until we get to come back and sail again
Karah (TN)

February, 2018 - Fabulous Family Fun Charter
Carolina & Charly!
Siento una inmensa felicidad de corazón personas tan encantadoras como ustedes!
Los felicito porque juntos hacen un equipo ganador y fantástico!!
Gracias por su cariño hacia nuestros hijos y gracias por transmitirnos el cariño al mar, a las islas y a la vida!
Gracias por su pasión, por lo que hacen y nos llevamos una energía y una parte de BVI para Colombia.
Un abrazo y sigan impactando vidas con su alegría y hospitalidad
Con cariño Ana María (Colombia)
………………………………………………………………
I feel immense happiness with such lovely people as you!
I congratulate you because together they make a winning and fantastic team !!
Thank you for your love towards our children and thank you for transmitting our love to the sea, to the islands and to life!
Thank you for your passion, for what you do and we bring you an energy and a part of BVI for Colombia.
A hug and continue to impact lives with your joy and hospitality
With love Ana María (Colombia)

BVI Yacht Show 8-11 November, 2017 - Broker Lunch - Amazing!

Thank you so much for your hospitality, the amazing lunch on Wednesday,and for taking the time to speak with me during the BVI Boat Show. Having the extra time to speak with you provided a wonderful opportunity to get to know you better.

Lunch was amazing! You opened my palate to things I had never tried before, like the Argentinian sangria, the empanada, and the mussels. Everything was incredibly delicious. And the chocolate mousse at the end was simply to die for!
I also want to thank you just for being there. I firmly believe that the best thing the yachting community can do to bring back the BVI is to charter! The vendors are ready, the crews are ready; the water is beautifully blue and teeming with marine life, and the land is becoming greener as every day passes. I know that you know where to take your guests to ensure a wonderful charter. Your faith and dedication to the BVI is fantastic.
Fair seas, Jennie
My lunch on Vision was wonderful. Charly and Carolina are gracious hosts and eager to make guests feel welcome. Their passion for food is evident and the presentation was superb. Their experience in the charter industry and their willingness to make every charter special will give guests a great vacation.

Regards, Nancy

I cannot believe how you transformed Vision in three days. I know it will be looking better moving forward. I am impressed. Trish
Thanks very much for hosting a wonderful lunch...Vision
looks good, and I would not hesitate to place a charter onboard when the opportunity arises. It is getting the Crystal Clear touch.
Christopher
Thank you both Charly & Carolina for a wonderful lunch and your lovely new boat which is looking fabulous. Keep up the good work.
Liz
Charly and Carolina are a great team. They have lots of experience in service and will make your holidays unforgettable.
Ignacio

The testimonials below are from Charly and Carolina's previous yacht charter:
August 2016
Charlie, Carolina & Valentin,
Sailing with you was one of the highlights of our 8magical days here in the BVI. We are grateful for the experience that you provided. We enjoyed the wonderful cuisine, the fantastic stories and sightseeing and your hospitality…With gratitude
Dough & Laurie (Colorado)
July 2016
Charlie, Carolina & Val,
What a glorious 8 days we had with you guys and the beautiful yacht. Sailing, food and company was delightful. It was an amazing vacation thanks to your hospitality and fun personalities. Thanks for adding the "cherry on the top" for us all.
Fair winds and following seas.
Gary & Pam , Christy & Erik (Colorado)
5th-12th July 2016
Dear Captain Charly and Carolina:
How do we begin to thank you for the most amazing Honeymoon?From the start we had an amazing experience. Your boat was absolutely beautiful!! We were so lucky to have such a relaxing place for our Honeymoon.Your cooking was so delicious, vegetarian for myself and non-vegetarian for my husband.
We can't wait to come back to see you!
Love Jason & Erin (North Carolina)
24th June- 4th July 2016
To the family member we did not know we had!
What an incredible and restful experience with you three on the yacht. We truly were treated like family. We loved our tour guide Valentin and playing cards and snorkeling with him. The meals were 6 Star Plus in every way, including the stunning Mahi-Mahi and the fire Grill lobster. We got to go over 7 knots with 3 sails up, got to feed tarpons in Billionaire's Bay and eat an Argentine meat-fest after the seagulls almost stole our food.
We cannot wait to return and repeat the experience!
Steve & Martha (Atlanta)
21st-28th May 2016
Dear Captain Charlie, Carolina & Val:
WOW!!! Another amazing adventure with you in "paradise"!What a great celebration of Torin and Julia's graduation…so many great memories we will take home with us. From snorkeling Caves, Indians, Lee bay, Peter Island to dancing at Willie "T" and Foxy's.
Wonderful breakfast, lunches & dinners! FIVE STAR!!But most of all how you all are so fun to be with, making us feel at home and making it all seem so easy. Thank you again for the "Sail" of a lifetime."
Rob & Jen (Florida)
May 2016
Dear Charley and Carolina,
Thanks you for making our WEDDING day so special. You made us feel very welcome on board the yacht and gave us memories that we will enjoy for a lifetime. The food was exceptional and your care and attention have been wonderful. We can't wait to come back and enjoy your hospitality again next year!
David & Donna (United Kingdom)
7th-12th April 2016
Dear Charly and Carolina,
Thank you so very much for giving us a wonderful 5 days with you both on the yacht. Even though we have visited the BVI's many times before,this has been by far the most memorable. We have experienced so much more of the beauty of the BVI by been able to sail to so many wonderful places with you.
On top of this your hospitality has been second to none. The wonderful food and drinks and your warm welcome are things we will never forget.
You also got Lynne to dive from the boat and to snorkel which is a first for her and a mark of her trust in you both.
We hope to see you again soon!
Gareth (New Jersey)
Dec.29th-Jan.5th 2016
Thank you for your wonderful attention to detail and thoughtfulness in hosting such a memorable trip for us. We will all have fond memories for a lifetime.
Randall
What a fantastic experience you all created for our family. You welcomed us onto your beautiful boat with open arms and the detail and care you used every minute of every day was terrific.
Wendy (California)
20-27 Dec 2015
From Tucson Arizona came the B Family!
Our first such adventure and we done it for a week with a family (Caroline, Charly and Valentin) we hadn't met. What a gift we received,of sun, ocean, wind and sails. But above and beyond was the amazing hospitality, love and friendship we were given (not to mention the safety, food and countless comforts!). It has been an absolutely unforgettable experience for our family and I'm eternally grateful to the family for their generosity of heart in making it happen. A thousand thanks and much love!
Robyn, Brad, Powell, Glen, Paige and Abbey. (Arizona)
Guests said this about their charter in early April, 2015
Please pardon our delay as married life with new jobs has occupied us since our return! We appreciate you facilitating this trip of a lifetime, that incidentally began our life together. Our consensus feedback is as follows.

Without hesitation we recommend Charly and Carolina with their yacht for a trip of a lifetime. My wife and I can tell you how the yacht consistently was the most elegant and well cared for vessel among the other boats anchored in the bays we spent our nights at, or we could speak to the uniqueness and splendid gourmet quality of our meals that never repeated themselves, or the meticulous mastery of scheduling the crew wielded to craft an unforgettable trip for us hitting all the must-do's in the Virgin Islands tailored to our interests. But what is the most important and sincere point we can communicate is our deep gratitude for Charly and Carolina who made us feel as family in their home they welcomed us into aboard This yacht as we begin our own family--we saw pictures and heard stories of all the patrons who returned time and time again for follow-up trips, even couples who spent their honeymoons with the crew only to now invite Charly and Carolina to their own children's weddings! You don't just find an unparalleled voyage with This yacht, you find life-long friends.

Best,
Dominique
Comments by guests aboard the 54 ft ketch in November, 2014
Sorry it took so long but we have been on the road since we returned from the charter. We had an incredible time in the islands. Charly and Carolina were fantastic and the This yacht was awesome, several people complemented Debbie and I on the beauty of the boat. I was awed by Anagada and the Baths and will have to return someday for a longer stay. Our Crew welcomed us like family and never lost patience with our constant stream questions. The last word: The best food, drinks and friendly service anyone could imagine!
Larry Mahan
From a family aboard in June, 2013
Our vacation was an amazing experience! All five of us had a fabulous time!!! We would wholeheartedly recommend This yacht for anyone contemplating this type of vacation.

Here's some feedback on a few items:

yacht- The yacht was gorgeous and was stocked with everything we could have needed! Charly and Carolina are very particular about their yacht, and therefore it is is great shape with no problems! The sleeping arrangements were comfy (although our middle daughter Hannah did bang her head on to the upper berth several times before she learned not to!).

crew- Charly and Carolina were gracious, accommodating, fun-loving, and dedicated hosts. They worked hard to make sure our vacation was what we wanted.They understood that our family liked to have adventures and stay active, so in addition to sailing, they made sure we went swimming, snorkeling, hiking or exploring every day. They took us to the most amazing beaches and bars and always had great recommendations for drinks and snacks. They were very personable and really took the time to get to know each one of us. They excelled at time management, and gave us just the right amount of time to do things and get places without feeling rushed (but we packed an incredible amount into our 7 days with them). They also made the trip a lot of fun -Charly with music, dancing, camp games while sailing, and an infectious attitude for fun; and Carolina as our tour guide on hikes and snorkel excursions. Both Charly and Carolina made the trip educational, answering all our questions about the islands, fish and animals, sailing, etc.

food- the meals were fabulous!!! very delicious!! Charly is a fantastic chef.We always had more than enough to eat and drink. We enjoyed trying things we had never tried before (even the kids) - mussels marinara, Russian salad, melo nwith prosciutto, Argentinian barbecue, etc. Some American classics (burgers,hot dogs, brownies with ice cream) also hit the spot at just the right time.

Island connections - an unexpected (but not surprising) benefit was the help that Charly provided for arranging for car rentals, ferries, taxis, and restaurants. We thoroughly enjoyed taking advantage of Charly's connections to utilize the pool, hot tub, slide and trampoline at Scrub Island Resort and hiking trails and beach at Biras Creek. We didn't know enough about the area to decide our own itinerary in advance, but Charly and Carolina quickly learned what we liked to see and do and their recommendations were always spot on. Each day seemed to be an adventure that topped the previous day. We were even treated to a fireworks show on Peter Island during our last night on the boat!

Again, our week aboard the This yacht with Charly and Carolina was everything we hoped for and then some. It was a trip of a lifetime. Thank you for your role in hooking us up with them!
APRIL 2013
Name: Maryann Cote
Yacht: with Charly Zahr & Carolina Soaje
Charter Dates: April 1-5, 2013
Area Cruised: Virgin Islands

We hope your charter lived up to your expectations. We would love to know some of your impressions about your yachting vacation. Please answer the following questions and add any comments you may have.

1. Was the crew friendly and accommodating?
Charly and Carolina are lots of fun to be around and welcomed us onto their yacht.

2. Was the yacht comfortable and clean?
Yes. It's beautiful .

3. Was the yacht well ventilated?
Yes. The fans are a big help in the cabins.

4. Was the food good and well presented?
Food was excellent. Gourmet presentation and absolutely delicious!

5. Did you like the area you sailed?
Yes, beautiful!

6. Could we have helped you further in any way?
I was pleased with the services.

7. May we post this review on our website?

8. Additional comments on your charter?


FEB 20-24-13
Name: Dan
Yacht: Charly Zahr & Carolina Rodriguez Soaje
Charter Dates: February 20-24, 2013
Area Cruised: Virgin Islands

We hope your charter lived up to your expectations. We would love to know some of your impressions about your yachting vacation. Please answer the following questions and add any comments you may have.

1. Was the crew friendly and accommodating?
Captain Charly and Carolina are very friendly and thoughtfully accommodated our preferences

2. Was the yacht comfortable and clean?
Extremely - the This yacht is a spacious, beautifully maintained and comfortably furnished yacht

3. Was the yacht well ventilated?
Yes - good passive ventilation, plus fans if needed, and the option for air conditioning - first rate!

4. Was the food good and well presented?
Exceptional - creative, tasty, surprising, fresh, plenty

5. Did you like the area you sailed?
Yes, Charly and Carolina knew where and when to go, sharing their local knowledge to maximize our enjoyment

6. Could we have helped you further in any way?
Very well done

7. May we post this review on our website?
Yes

8. Additional comments on your charter?
I highly recommend this yacht. Carolina and Charly make a great team - they complement each other very well and care tremendously about exceeding expectations on all aspects of the experience. We had a fabulous time and are talking about when we might go again.


Jamie & Lori April 2005
Thank you Charly and Carolina for a wonderful vacation. We had such good fun sailing with the both of you. We loved snorkeling on the reef at Bitter End, seeing sharks and turtles. Thank you for introducing us o Virgin Gorda - we loved exploring it. We had a great time playing poker and perhaps our favorite night was Argentina BBQ with songs and laughter! Too bad Manchester United didn't win. Maybe next time. Thank you Thank you for everything! I think my Spanish got a little better no? Adios Gracias Hasta Luego.
Jamie & Lori April 2005
Gretchen Charter
Dear Charly and Carolina,
Once again... THANK YOU THANK YOU THANK YOU!!! This trip was better than the last- and it was amazing! How truly lucky Joe and I feel to count you a our friends. AND we're all so very talented at scuba diving - SCUBA PROS we are! I know we feel totally relaxed with you and enjoy your company and lovely home -what an adventure you are both living - thank you for sharing it with us. After our first trip with you I was thinking it would be so nice to sail with them again someday... today I am thinking - I can't wait until our next trip with Charly and Carolina! Take care both of you we will be in touch! Love Gretchen
The Margulis
Dear Carolina & Charly,
Thank you both for an amazing week. You really know how to make one feel at home and so welcome. We will always remember our first wedding anniversary and Caleb's first sail. Thank you for all your hard work and making us feel so special!
Best wishes,
The Margulis
Charly and Carolina,
The second time was even better than the first! Thanks for making it so special for us and especially for Shane.
California this summer?
All my best,
Sandy

Thank you so much for the best, and presumably only, honeymoon cruise of our lives!
The amenities, the food, your friendliness, the fantastic locations, the snorkeling trips and local tours, and the gift of seeing Charly dance like Michael Jackson with Jason were all muy muy muy bueno!
We have had such a wonderful time sailing with you, and we wish you clear skies and perfect breezes o see you safely down to Venezuela and your fabulous life adventures beyond!
Come see us in California on your big RV trip of the USA (or anytime!)
Love,
Jeanne and Jason
Jessica and Jim
To capture a moment in time is an extremely difficult task.Cameras and camcorders can do no justice. It takes special people to take those moments and make them real. You are those special people. I cannot think of any other people or way that could have made our honeymoon as special as it was. We will never forget this week or the two of you for the rest of our lives. Wet hank you from the bottom of our hearts for capturing this moment in time for us. We are glad to call you friends. Thank you for everything.
The Hunsakers
Dear Charly and Carolina,
We had such a wonderful time on this cruise with both of you through the BVI! We really enjoyed your company, your hospitality, your cooking, and especially your friendship. Brooke and Ben had the trip of a lifetime with you and we are sure they will never forget the treasure hunt, football on the beach,sandcastles and, how can we forget, the game Set! They felt so special by both of you and we appreciate your time with them!
From one pirate family to another, we look forward to sharing the waters with you again! AARGH!

The Hunsakers
Brooke (Age 9)
Dear Charly and Carallina,

I really enjoyed the cruise you gave my family and I loved the treasure hunt it was so much fun! When I get home I am going to put together the fish puzzle. (I may need a little help because I'm not good, but it will help me get better.)The turtle made out of shells is going to go on my dressure where everyone can see it. Your guys cooking is the best! It tasted like a restruant. I loved your hospittallity. I liked playing with you on the beach. I liked the pirate flag cerimony with the swords, eye patches, and the telescope. It was so instering to watch the baracota eat with his big teeth. I will remember this for the rest of my life.
From,
Brooke
(Age 9)
John and Page
Dear Charly and Carolina,
We came with few expectations, just a hope to relax and enjoy the sun and water... What a wonderful, magical time this has been. You are two unique spirits, and sharing yourselves, your love of life, your beautiful sailboat and home with us has been such a pleasure. The past two days have been fantastic-what a change from the crazy day before (travel!) We hope to keep you in our lives and be able to share time again with you. We would love to have you come and see Virginia and Chesapeake Bay (and oysters and crabs). Thanks again for everything-
September 2011
The Freyembergers HONEYMOON
Charly & Tom:
We had a great vacation with you. The food was delicious and you always keep us entertained. It was great seeing the islands from our own floating fortress! I appreciate you dedication to my search to find the perfect lobster. Thanks for all the pics you took! You documented our trip much better then we could have!We all feel like family now!

The Van Horns
Captain Charly & Tom:
Thank you so much for a wonderful HONEYMOON ! We loved the boat, the snorkeling, the swimming and ,of course, Grants B-Day Party! We are very happy in this Yellow submarine! The adventure was amazing, your warmth generosity and desire to have fun ! (And amazing cooking skills. Thanks to your wife for the birthday Cake). We feel so lucky to have meet you. Cheers!
The testimonials below are for the previous crew on Vision, Franco & Silvana

8th November2016 – Perfect in Every Way!!
15 minutes Silvana changes to a perfect maid of honor dress,with daisies.  Captain/Father Franco in his yellow pants and Kelly-green shirt, and my wonderful husband and myself share vows to protect our love and marriage through the eyes of God and nature for the rest of our "time".  It was not only perfect in every way, it was fun & romantic & energizing!
Thank you both so much for accommodating our every wish and holiday to our challenging demands of doing it all in 4 days!!  We did!! Thanks to you both!!
God Bless,
Alisa & George
19 March, 2016 – Forever Friends!
Silvana & Franco,
Best vacation ever!! We had been looking forward to this trip and was not sure what to expect.  What we found were two amazing,professionals that made even the simplest tasks magically appear out of what were difficult undertakings.
We found a time to connect with our family & friend Beth, which was the most important part of the trip.  What we did not anticipate was finding two individuals that we now call friends and whom will remain so for the rest of our lives.
Dave
Guests aboard catamaran VISION in mid March, 2016, said:
I can't find the words to describe how amazing Franco and Silvana are. They turned what was bound to be a fabulous vacation into an unforgettable experience. The boat was magnificent, the scenery sublime, but the hospitality, knowledge and comfort they brought to our trip was beyond compare. I think I speak for my whole party when I say it was the trip of a lifetime.
Jason G.
March 2016 ~ Exceeded Expectations!
Dear Silvana & Franco,
What a wonderful trip – exceeded expectations & that is saying a lot, as we had been super excited!! You treated us so well and adapted to our needs. Loved how you charged up the trip for good snorkeling, diving and sailing. Food was amazing! And we loved hearing your stories. Everything we needed, you jumped up and got. Such a great vacation, we did not work at all.We recognize how hard you worked, constantly!
Silvana; such an amazing amount of work you do.
Franco; also appreciate how you took care of us during dives. Just great all around.
Thank you, thank you, thank you!
Pat
March 2016, A Wonderful Vacation!!
Dear Silvana & Franco,
Thank you for taking such good care of us (adults &children!). We enjoyed all the stories and information about the islands! If you ever need a deck hand, Logan is available!
W. Family
Guests with Franco& Silvana over New Years, 2015/2016 said:
Amazing, Franco included my son and guided him in assisting with rigging the sails, etc. Mapping out the day's sailing with him every day. Franco was flexible with our wants and he made great suggestions.
Silvana was a wonderful hostess, very warm and she made the best desserts!
Fresh Wonder... I was so relaxed I couldn't drive my car when I got home <3 !
Janet W.
Franco was wonderful and was ready for anything.
Silvana kept everyone well feed and was so nice to us,though her English was not great, we all communicated well enough.
For a 20 year old boat it was well cared for and everything worked fine. The sailing was excellent.
We made up the itinerary as we went along and it was great.
Tubing, snorkeling, swimming, scuba, and sailing, we couldn't have done much more, it was great.
Silvana made great food and we had a great variety of drinks. Franco introduced a few new drinks as well.
Great time! We may do it again in a couple years.
D Family
December 2015 ~Renewed our Wedding Vows!
Dear Silvana & Franco,
It has been 4 glorious days and what can we say other than thank you, thank you, thank you for an unforgettable trip on our first catamaran cruise. You are both so delightful, so knowledgeable, so interesting and so much fun! So you brought magic to our trip which was already blessed with gorgeous surroundings, a piercing blue Caribbean Sea, the wind, the waves,a soft rain, and islands inhabited with warm natives, all contributed to a life-long happy memory.
Most of all, thank you for presiding over us re-taking our vows! Have we were outside Long Bay VI and within 15 minutes, Silvana changes to a perfect Maid of Honor dress with daisies; Captain "Father Franco" in his yellow pants and Kelly green shirt, and my wonderful husband and myself share vows to protect our love and marriage through the eyes of God and nature for the rest of our "time". It was not only perfect in every way, it was fun &romantic & energizing.
Thank you both so much for accommodating our every wish and holding to our challenging demands of doing it all in 4 days! We did!! Thanks to you both!
God Bless,
Alisa & George
April 2015 ~ Beyond Words!
Dear Franco & Silvana,
We are beyond words to express the amazing time we had. This trip was truly a dream come true for our family.
Vacations come and go, but your hospitality, experience,cooking, knowledge of the islands, and most of all, friendship has fill our vacation with lasting memories.
Thank you for everything and till we see you again, safe travels and all the best to you both!
"Fair winds and following seas and long may your big jib draw!"
B Family
April 10, 2015 ~ An Amazing Journey!
Dear Franco & Silvana,
Thank you so much for an amazing journey! We had such a great time.
Silvana, the cooking was amazing. The tiaramisu was the best on any boat in the Caribbean, and all of Italy! Muy delicioso!
Franco, you are the best boat driver in all the seas! You took care of us and showed us all the beautiful places. This was the best vacation ever and we will never forget it!
J Family
March 25, 2015 ~ 9 Glorious Days in the BVIs

Franco & Silvana,
Thank you so much for a fabulous trip! We had nine glorious days of great sailing, snorkeling and relaxing. You were very generous with your time in allowing us to "help" with the sailing and you took us to some great spots for snorkeling.
Silvana's cooking was phenomenal and we are going to miss your pasta lunches when we get home! We will be looking for you as crew again when we book our next trip to the BVI!
M Family
March 8, 2015 - My70th Birthday!
Thank you both for making my 70th birthday the best one ever! Hope to sail with you again.
Kirk
CD library, Cell phone, DVD library, DVD player saloon, Indoor audio system, iPod dock, Wi-Fi, 14ft / 4.30m 50hp Zar, Assorted water toys, Floating mats, Kayaks multiple, Paddleboards multiple, Swimming noodles, BBQ, Deck shower, Fishing gear - light, Hammocks, Special diets, Swim platform
Not Insured, Diving by arrangement, Snorkelling gear, 1 Compressor, 8 Tanks, 8 BCs, 8 Regulators, Open Water Diver, Rendezvous Diving and Capt. Charly will be happy to accompany you with the Dive Operator.