The call goes out to the luxury leisure yacht industry to do its part to support a worthwhile community cause
Save the date: Friday, August 9, 2019, 5:30 – 10:30 p.m. Newport Shipyard
Did you cry when your mom sent you off to summer camp? Did you trade away the crumbly ginger snaps she packed in your brown-bag lunch for chewy chocolate chip?
These were some of the memories that popped up one day in early June, when a group of charter yacht professionals made the inland trek to Camp Grosvenor, a 95-acre wonderland in the heart of southern Rhode Island.
Summer day camp has come a long way from tears and tough cookies, and our hosts from the Boys & Girls Clubs of Newport County couldn't be more pleased to take us on a tour of the camp to demonstrate how much.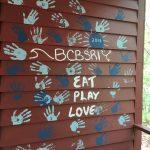 Camp Grosvenor, which operates on land leased by the group Historic New England, is really Camp Heaven. Not only does it have its own beach, it offers a climbing wall, high/low ropes courses, boating, swimming, water trampoline, dance, archery, playgrounds, nature trails and field trips. Indoor activities range from games to arts and crafts and a reading program that is data-driven and utilizes evidence-based approaches to ensure that high risk students do not lose literacy skills during the summer months. Transportation is provided five days a week and breakfast and lunch are served, a big help to working parents.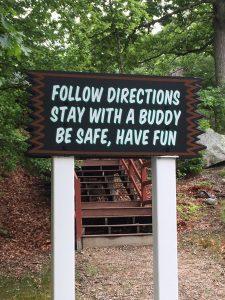 Nearly 400 kids ages 5 to 14 have attended Camp Grosvenor; on any day during the eight-week camp term. Camp enrollment has doubled in the last three years, and it's worth noting that in posh Newport, Rhode Island — yachting capital of the world — 65% of the city's students qualify for free or reduced lunch, 42% of the city's children live in single parent homes, and 32% of Newport students are chronically absent from school.
What sets Camp Grosvenor apart from other summer camps, according to the B&G Clubs, is the belief that everyone should have the opportunity to attend camp, regardless of ability to pay. The club charges a weekly fee of $160, and provides varying levels of financial assistance to approximately 80% of families served, ensuring that no child is turned away.
So why should the yachting sector care?
The answer's a no brainer to charter broker Jennifer Saia, president of B&B Yacht Charters, Inc. Saia, who books luxury yacht charters around the world for clients, relocated to Newport from Fort Lauderdale, Florida, several years back. In Florida, she helped organize successful fundraisers for the local Boys & Girls Clubs. When she moved to Newport, she realized the youth of the City by the Sea faced challenges similar to those in a larger urban setting. "Yacht owners and clients enjoy the beautiful waters of New England," she says, adding, "this is an opportunity to give back to the city that takes care of everything for them afloat."
For six years, her company, as well as Nicholson Yachts and countless other brokers and companies, owners, captains and crew, have donated their time and boats to pull off an annual yacht hop fundraiser for B&G Clubs activities.
This summer, the event, whose profile has gained prominence in the roster of must-attend summer events, will give hundreds of attendees even greater opportunity to give. Its growth mirrors that at Camp Grosvenor, so it's only logical it adopts the theme in title: Camp Newport Yacht Rendezvous: Ship to Shore.
On Friday, August 9, 2019, yachts will be docked at Newport Shipyard and available for visits by guests. (There's still room for more to join the fleet, and each yacht receives a one-night credit with electricity and water provided.) Dinner and dancing follow.
Sponsorships and related amenities range from "Sponsor a Child" for $1,200 to Presenting Sponsor, for $25,000.
Details and contacts (www.bgcnewport.org/NYR; [email protected]).
Staff from the Boys & Girls Clubs of Newport County will also be available to answer questions at the annual Newport Charter Yacht Show 17 – 20 June 2019, also at Newport Shipyard.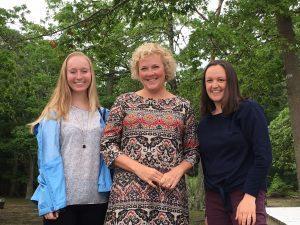 Gillian Lessels, Kelley Coen, and Erin Wood of the Boys & Girls Clubs of Newport County