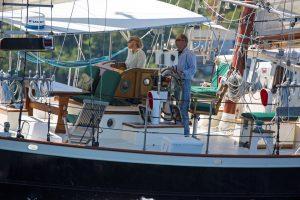 BONNIE LYNN is one of the most unique and beloved members of the Maine schooner fleet. She is a modified version of designer Merrit Walter's Rover schooner. A gaff rigged topsail schooner, she carries 11 sails and can fly eight at a time. Usually, she's seen with three headsails and a traditional square fore topsail. The steel hull is 57 feet on deck, with an overall length of 72 feet. She has a 15-foot beam and 7-foot, 6-inch draft.
A serious offshore cruising vessel, she is built to high standards. Extraordinary means were taken to make her comfortable and seaworthy. One unusual aspect is her heavily insulated hull, deck and interior bulkheads, which offer passengers more privacy and comfort.
Below deck she is teak and mahogany paneled with a teak and holly sole. Traditional style brass lights create a romantic, old world atmosphere. A diesel heater offers warmth when sailing in cooler climates. Cabins have adjoining heads and showers. The fos'cle has a settee that can be pulled out to a double berth, as well as two single berths. The other two cabins have double berths. 110-volt power is available throughout. The owner quarters are aft, which affords guests total privacy.
One of the most unusual aspects of BONNIE LYNN is her 'open/flush deck', allowing charter guests to wander freely and not be confined to a cockpit. She has more deck area than boats twice her size. The on-deck table and teak lounge chairs and various private spaces for lounging offer charter guests numerous places to hang out. The mid-ship's lounge area can be totally enclosed with clear panels, allowing charter guests to dine and relax comfortably on-deck even during inclement weather. Charter guests continually comment on how nice it is to be able to walk about, even while sailing rigorously. The two on-deck hammocks are nearly always occupied.
BONNIE LYNN is U.S. Coast Guard certified for 32 passengers coastal and 10 for ocean sailing. She prefers 25 passengers for entertaining and day charter.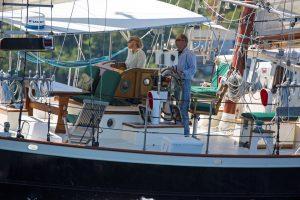 Her owner-operators are captains Earl and Bonnie MacKenzie. Earl and Bonnie thoroughly enjoy entertaining and their guests inevitably become friends that often return year after year. Their love of the sea, and their joy of sailing is evident to all who share their magnificent schooner. BONNIE LYNN is their dream and they want to share her with you.
BONNIE LYNN is available summers in Maine. Her weekly rate is $12,500 for six, plus all expenses. Contact Nicholson Yachts for availability ([email protected]).