AMANDA, the classic wooden yacht designed by the naval architect R.M. Martins and built in the United Kingdom at the shipyard of GRAHAM BUNN NORFOLK in 1956, is for sale. The listing price by agent Nicholson Yachts is 650,000 euros.
Construction of the 78-foot motor vessel is of double diagonal moulded construction with timber planking laid diagonally with calico between the skins and nailed through with copper boat nails and roves. She was refitted in 2017-18 on her original layout and is powered by two Rolls Royce diesel engines performing excellently from 10-12miles/hour without noise. She sleeps up to 12 passengers in 5 cabins.
AMANDA is homeported in Piraeus, southwest of the center of Athens, Greece. AMANDA is a shining example of a lovingly restored traditional craft.
The yacht runs with captain and crew of three marine professionals who are devoted to AMANDA, speak English, and are eager to share the experience with guests.
With excellent displacement and a narrow beam, AMANDA performs smoothly even in large seas. The interior design is comfortable yet not overly formal; there's a small lounge off the guest cabins and the overall area below the main deck is private and beautifully maintained. The cabins and heads are attractive and comfortable. The aft deck space is roomy and leaves plenty of area for guests to move around.
A special feature is the forward dining area with bar and lounge. This special accommodation – the lounge area — is where AMANDA's guests love to congregate. There's plenty of room for large groups.
AMANDA and crew are pleased to offer seven and 10-day itineraries to Greece's most beloved island groups, the Cyclades, Ionian, Saronics and Sporades among them.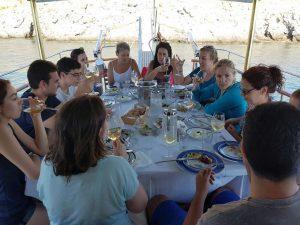 For details, contact Rex G. Herbert Jr.
director, yacht sales
Nicholson Yachts
p. 1 917-913-1886
email: [email protected]